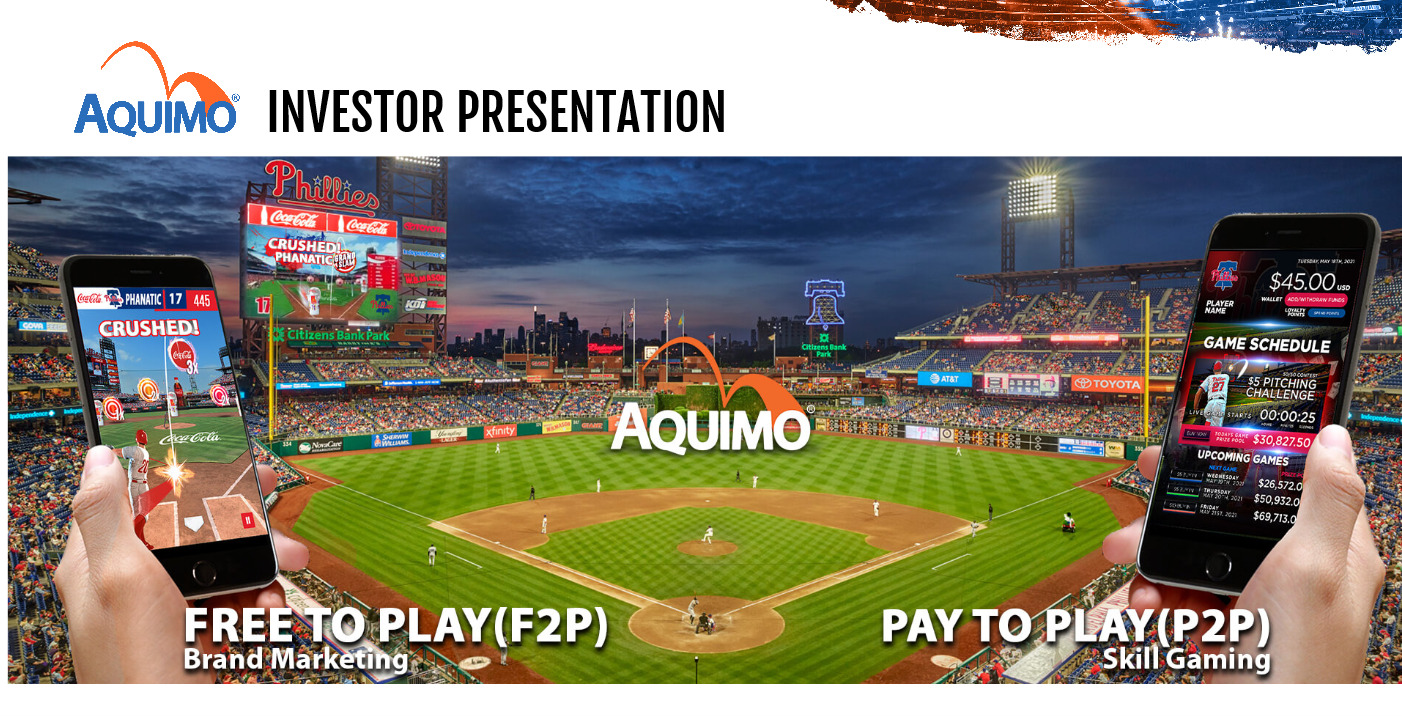 INVESTOR PRESENTATION
_
_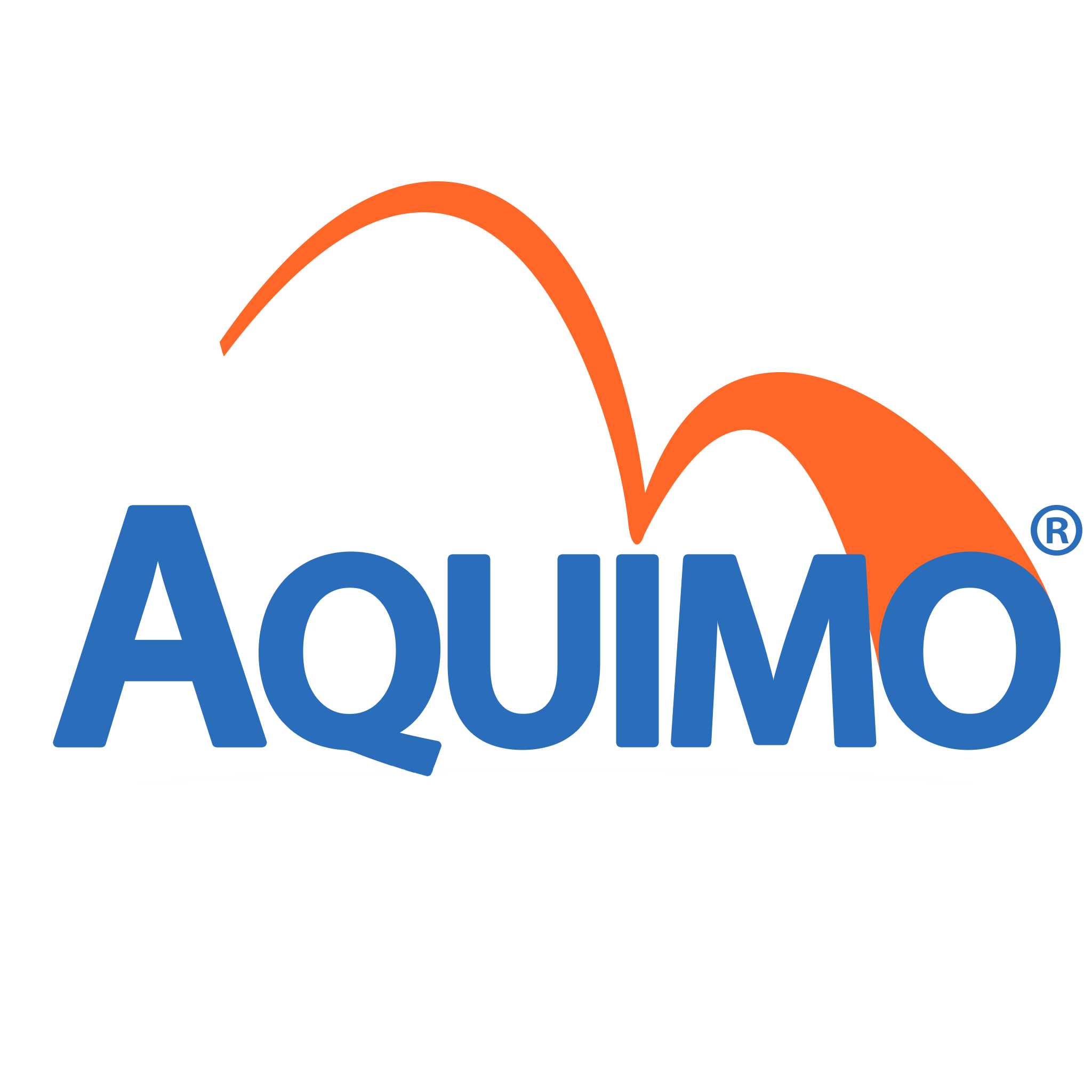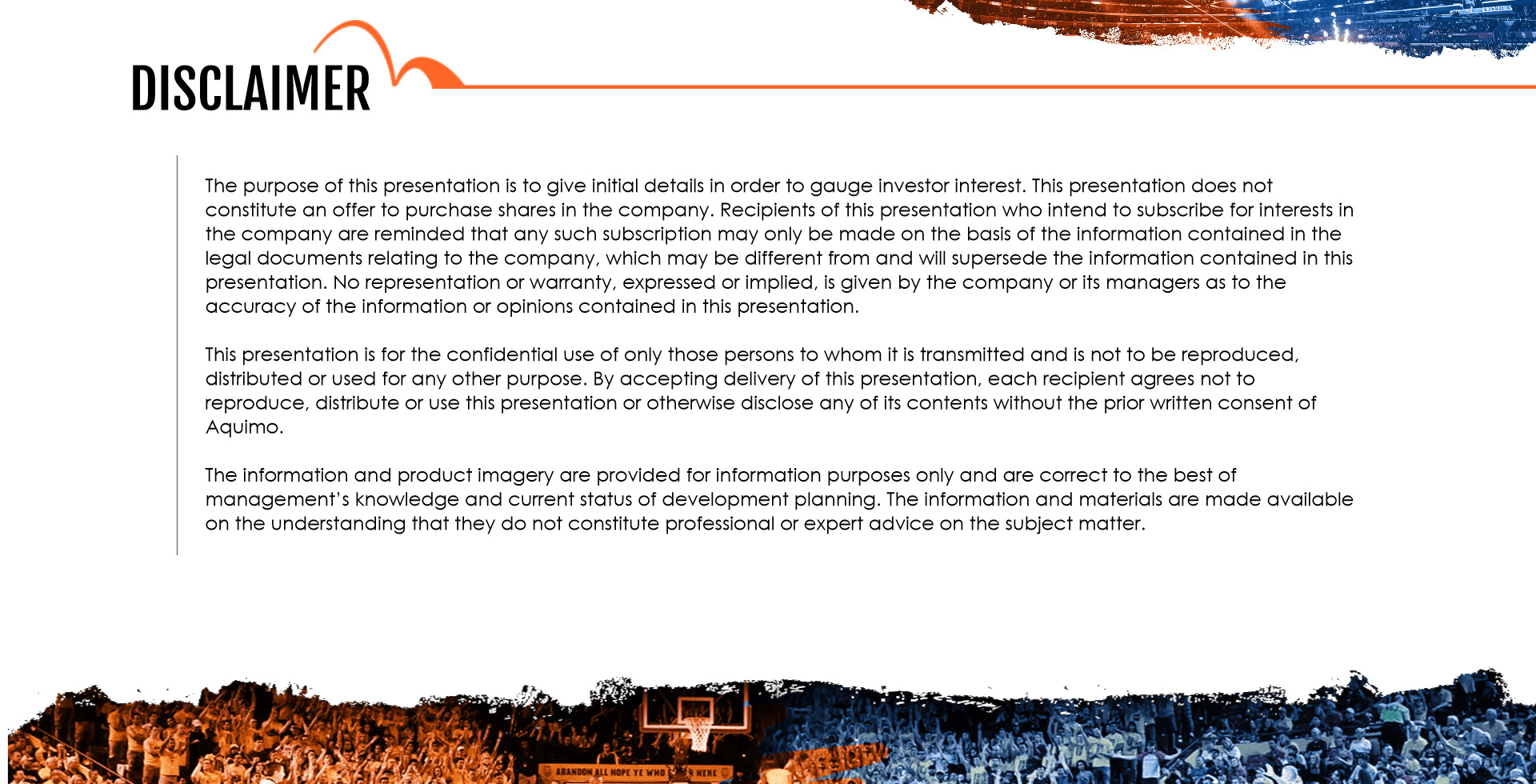 DISCLAIMER
The purpose of this presentation is to give initial details in order to gauge investor interest. This presentation does not constitute an offer to purchase shares in the company. Recipients of this presentation who intend to subscribe for interests in the company are reminded that any such subscription may only be made on the basis of the information contained in the legal documents relating to the company, which may be different from and will supersede the information contained in this presentation. No representation or warranty, expressed or implied, is given by the company or its managers as to the accuracy of the information or opinions contained in this presentation.

This presentation is for the confidential use of only those persons to whom it is transmitted and is not to be reproduced, distributed or used for any other purpose. By accepting delivery of this presentation, each recipient agrees not to reproduce, distribute or use this presentation or otherwise disclose any of its contents without the prior written consent of Aquimo.

The information and product imagery are provided for information purposes only and are correct to the best of management's knowledge and current status of development planning. The information and materials are made available on the understanding that they do not constitute professional or expert advice on the subject matter.



_
_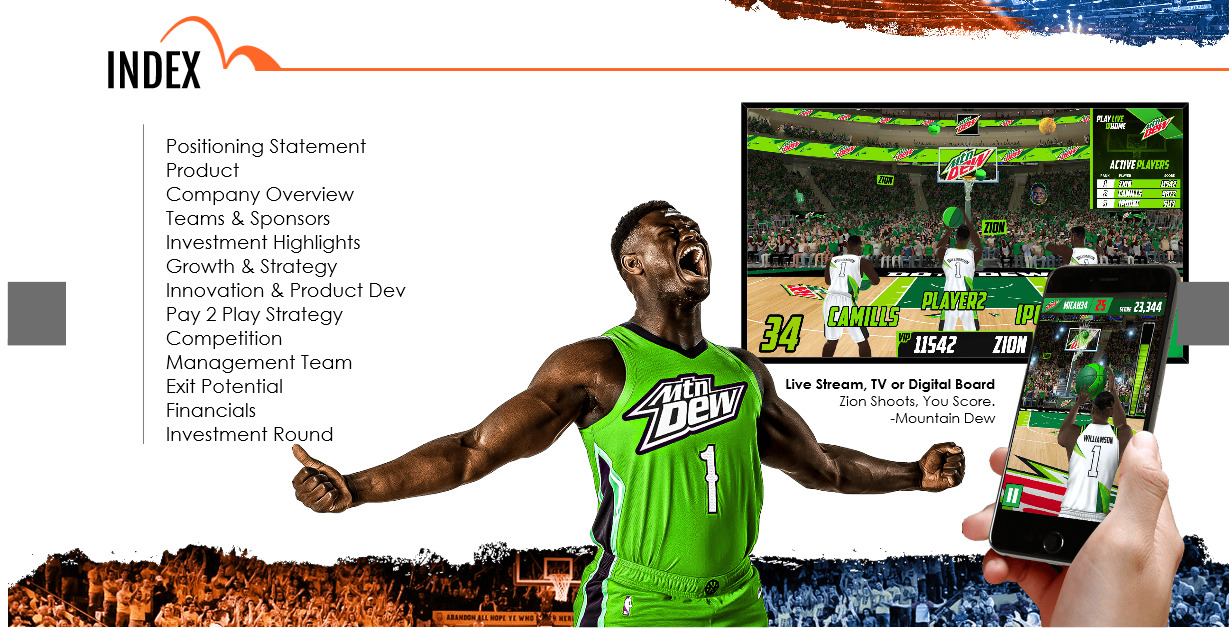 INDEX
Positioning Statement
Product
Company Overview
Teams & Sponsors
Investment Highlights
Growth & Strategy
Innovation & Product Dev
Pay 2 Play Strategy
Competition
Management Team
Exit Potential
Financials
Investment Round

Live Stream, TV or Digital Board
Zion Shoots, You Score.
-Mountain Dew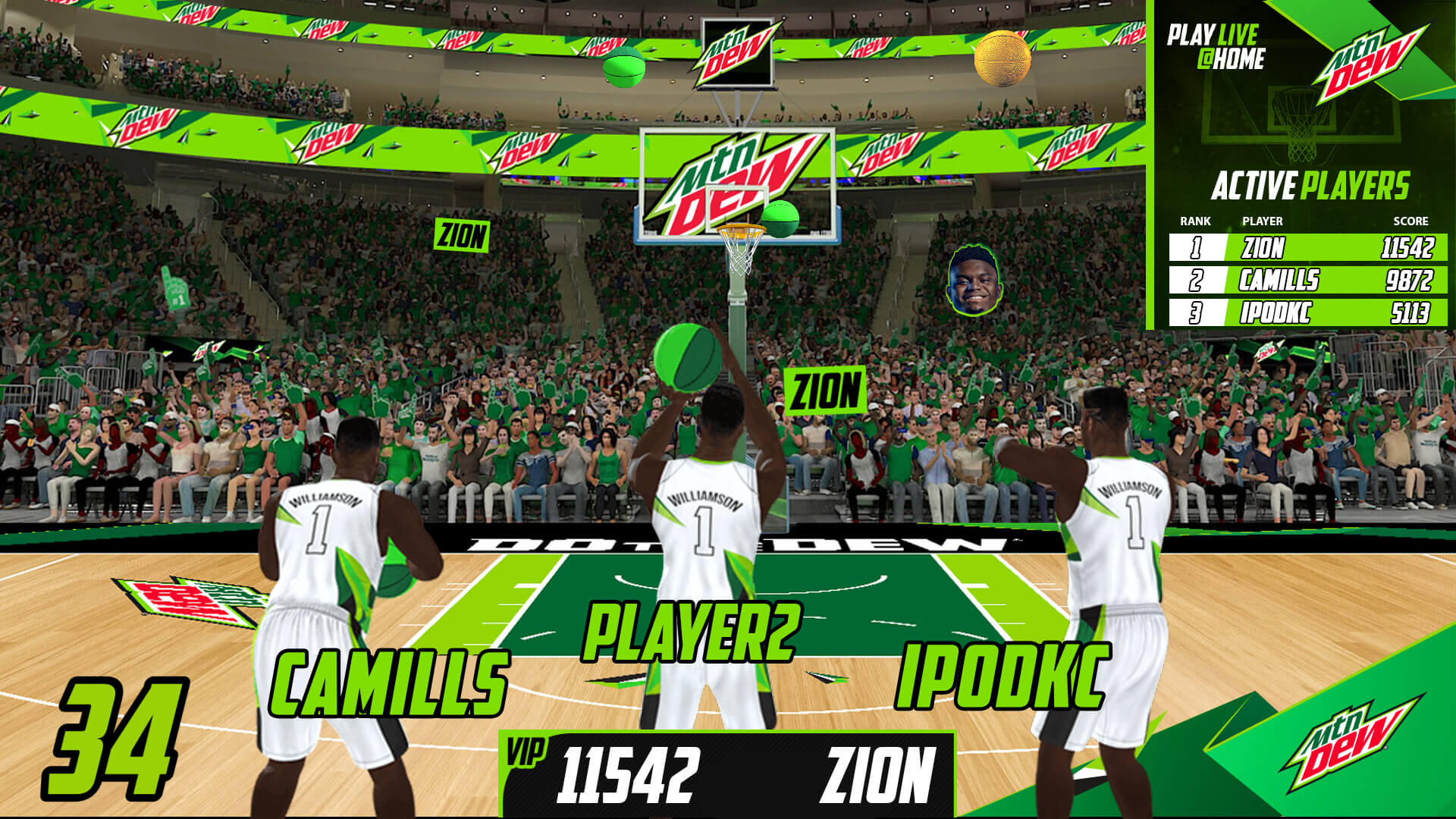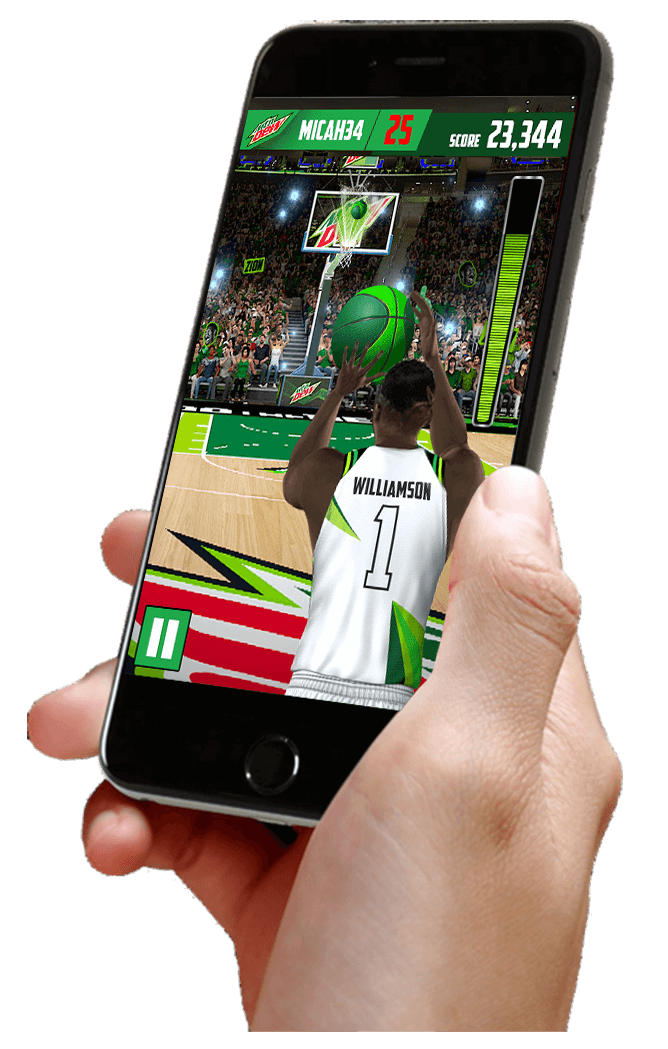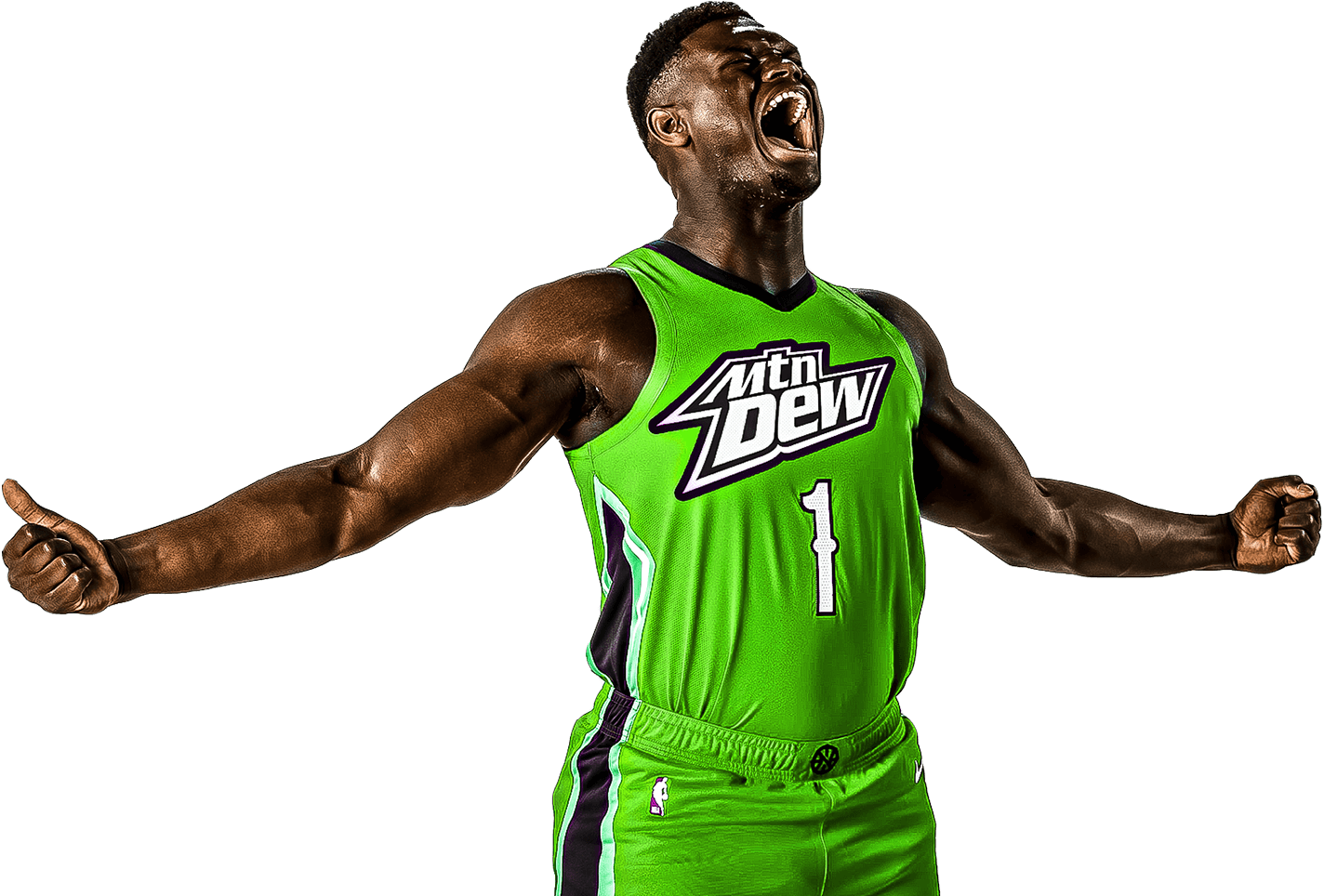 _
_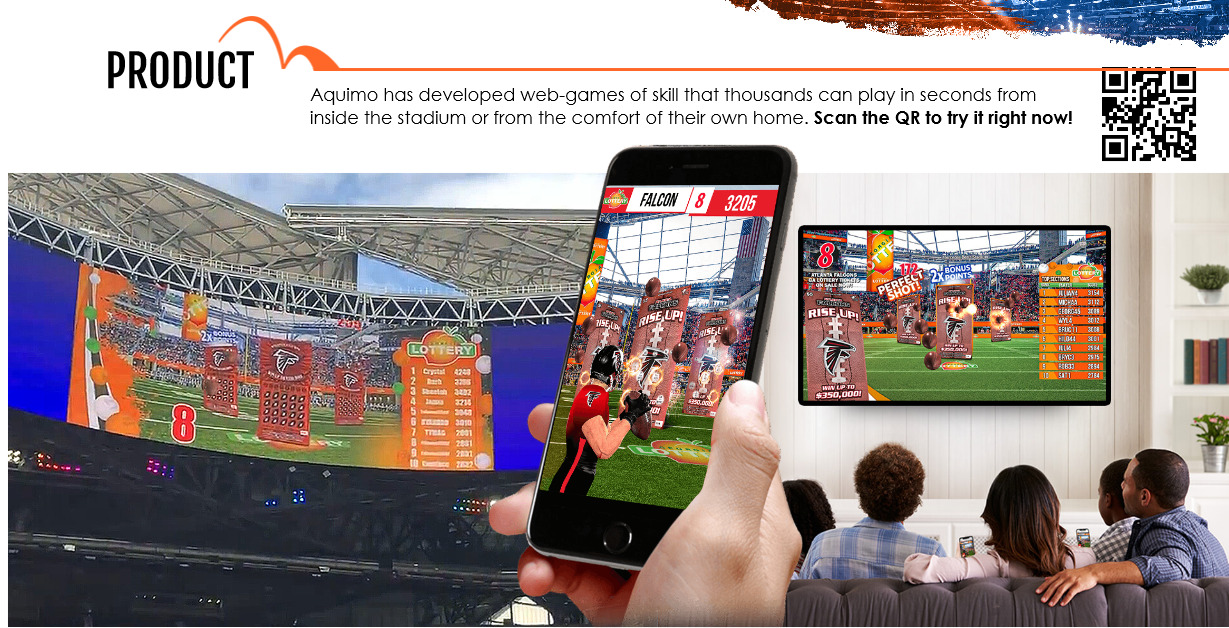 PRODUCT
Aquimo has developed web-games of skill that thousands can play in seconds from inside the stadium or from the comfort of their own home. Scan the QR to try it right now!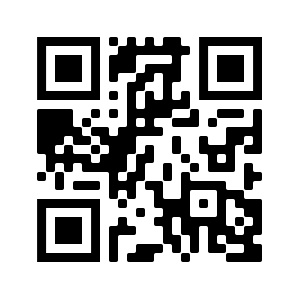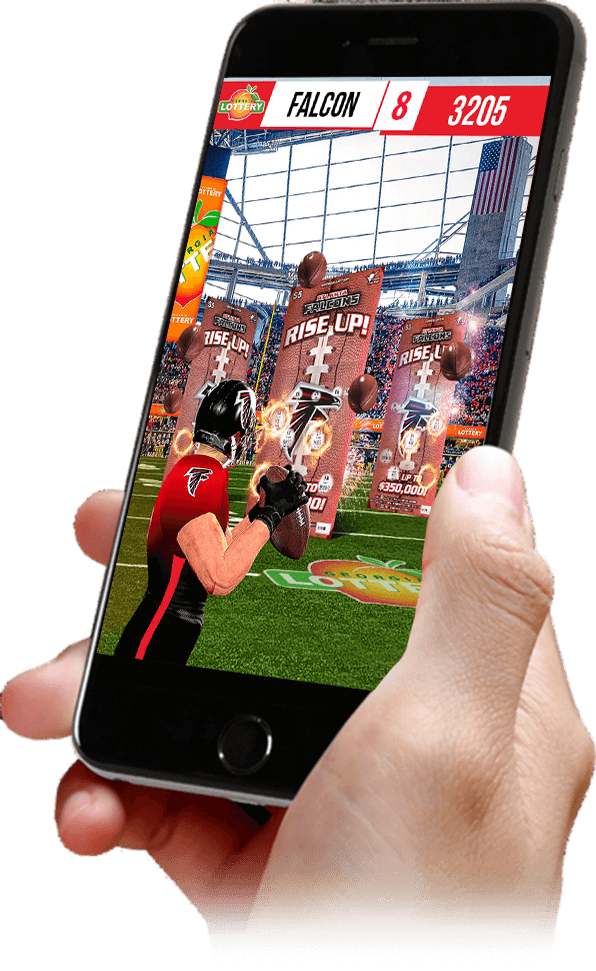 _
_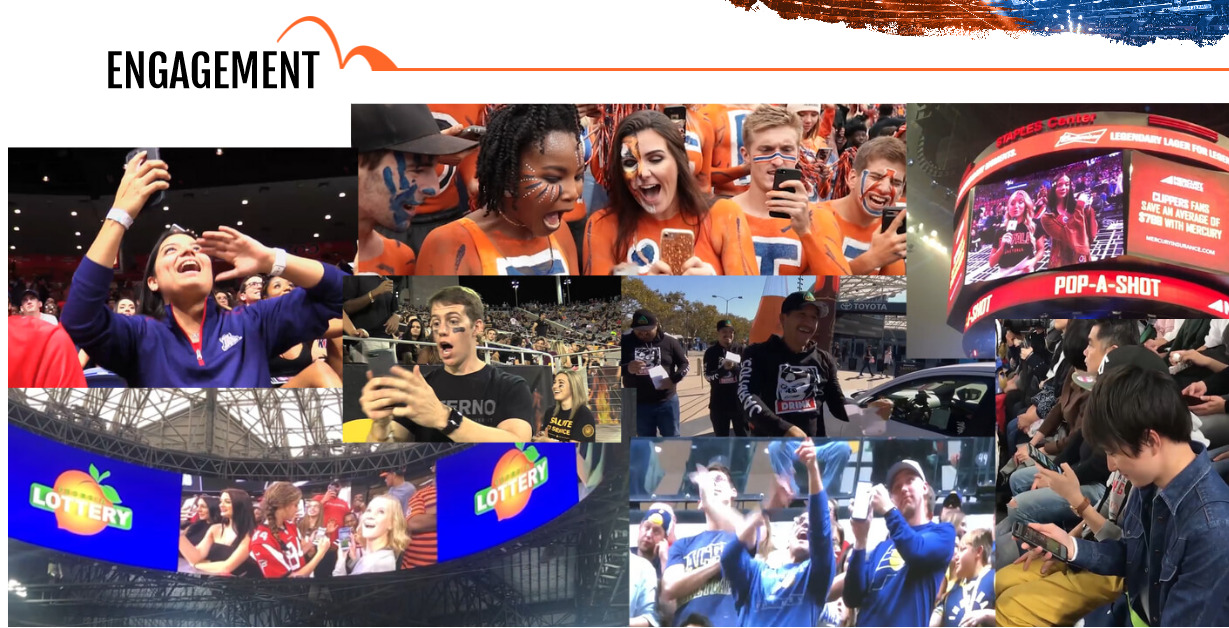 ENGAGEMENT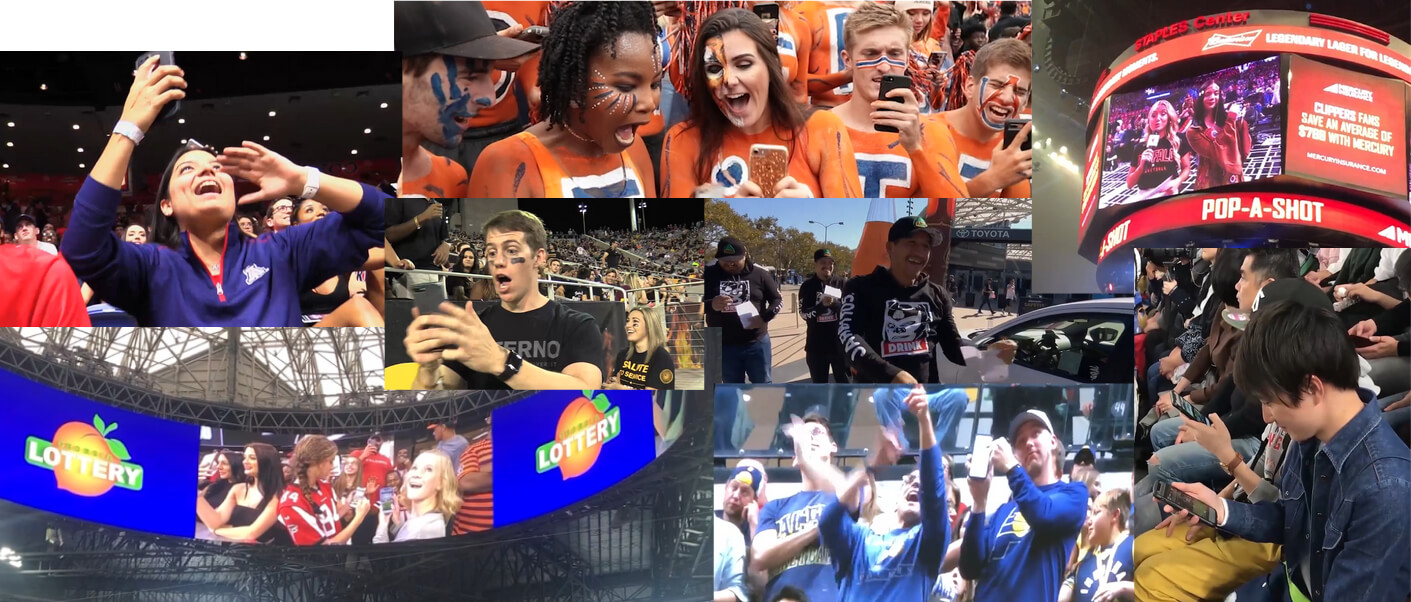 _
_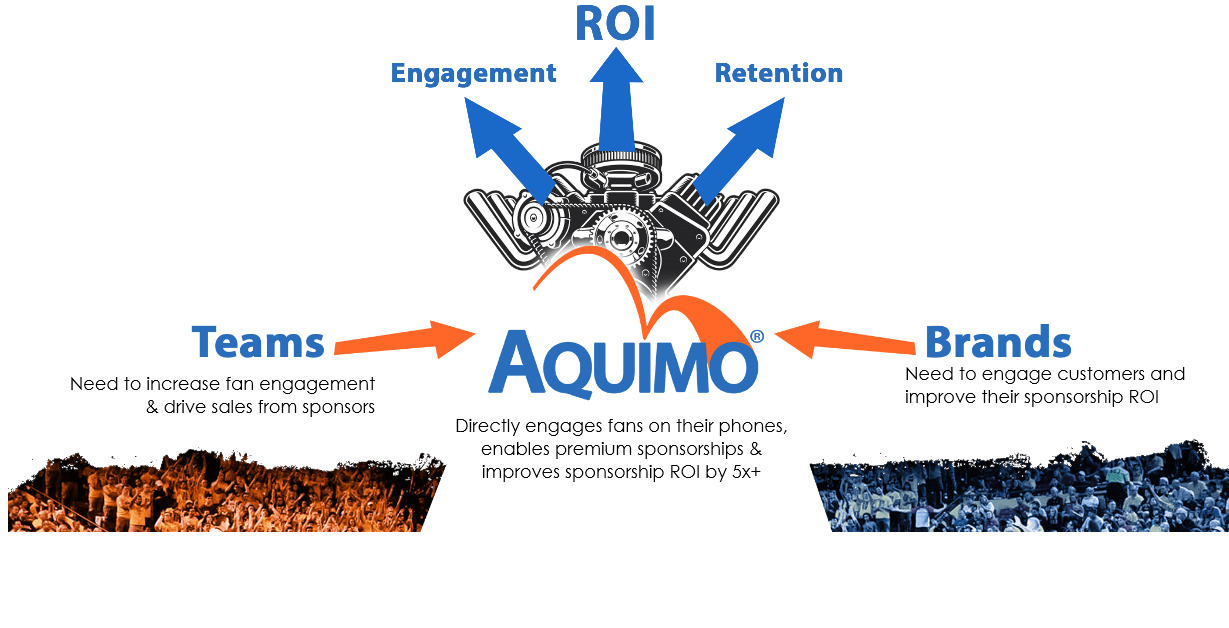 ROI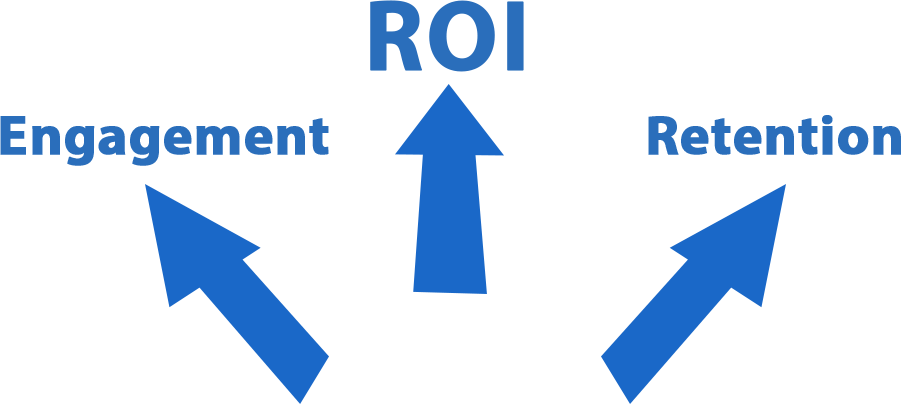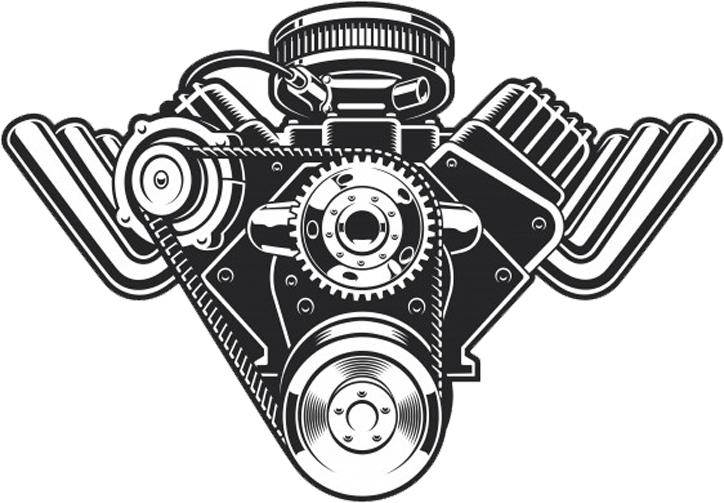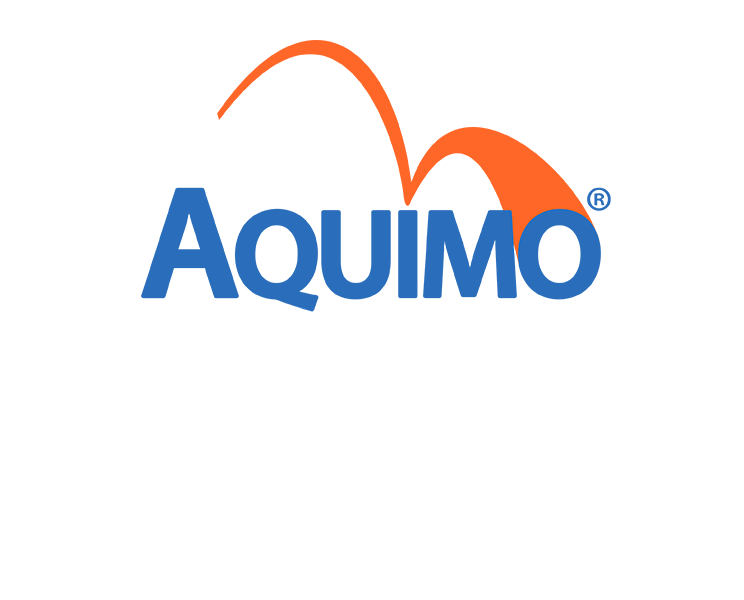 Aquimo boosts team + brand engagements
Need to increase fan engagement & drive sales from sponsors
Need to engage customers and improve their sponsorship ROI
Directly engages fans on their phones, enables premium sponsorships & improves sponsorship ROI by 5x+
_
_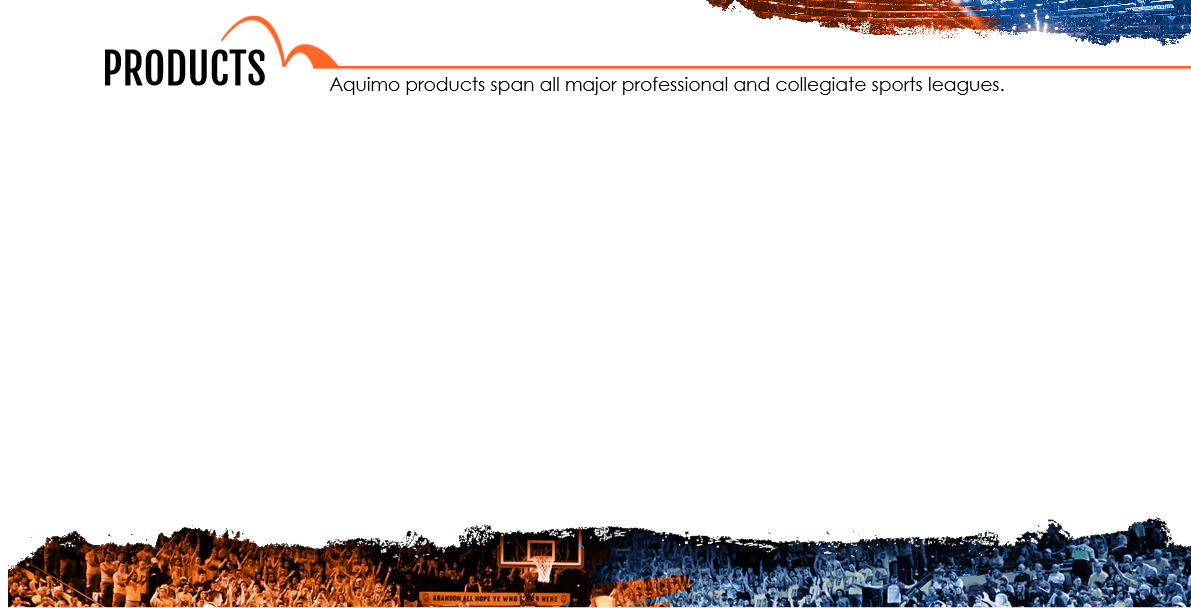 PRODUCTS
Aquimo products span all major professional and collegiate sports leagues.
_
_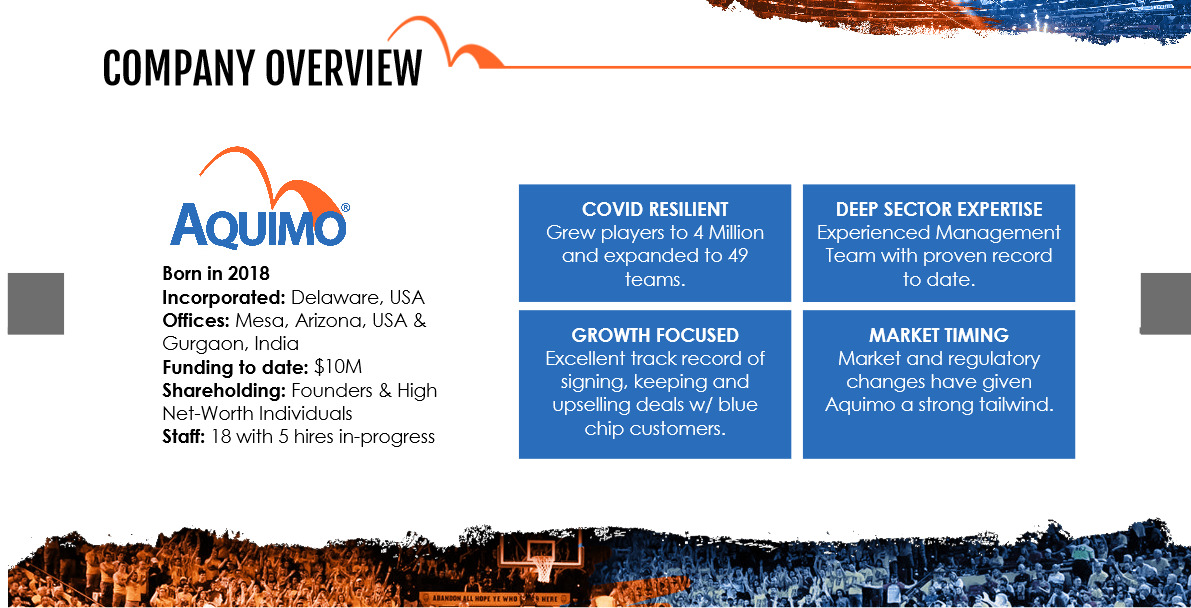 COMPANY OVERVIEW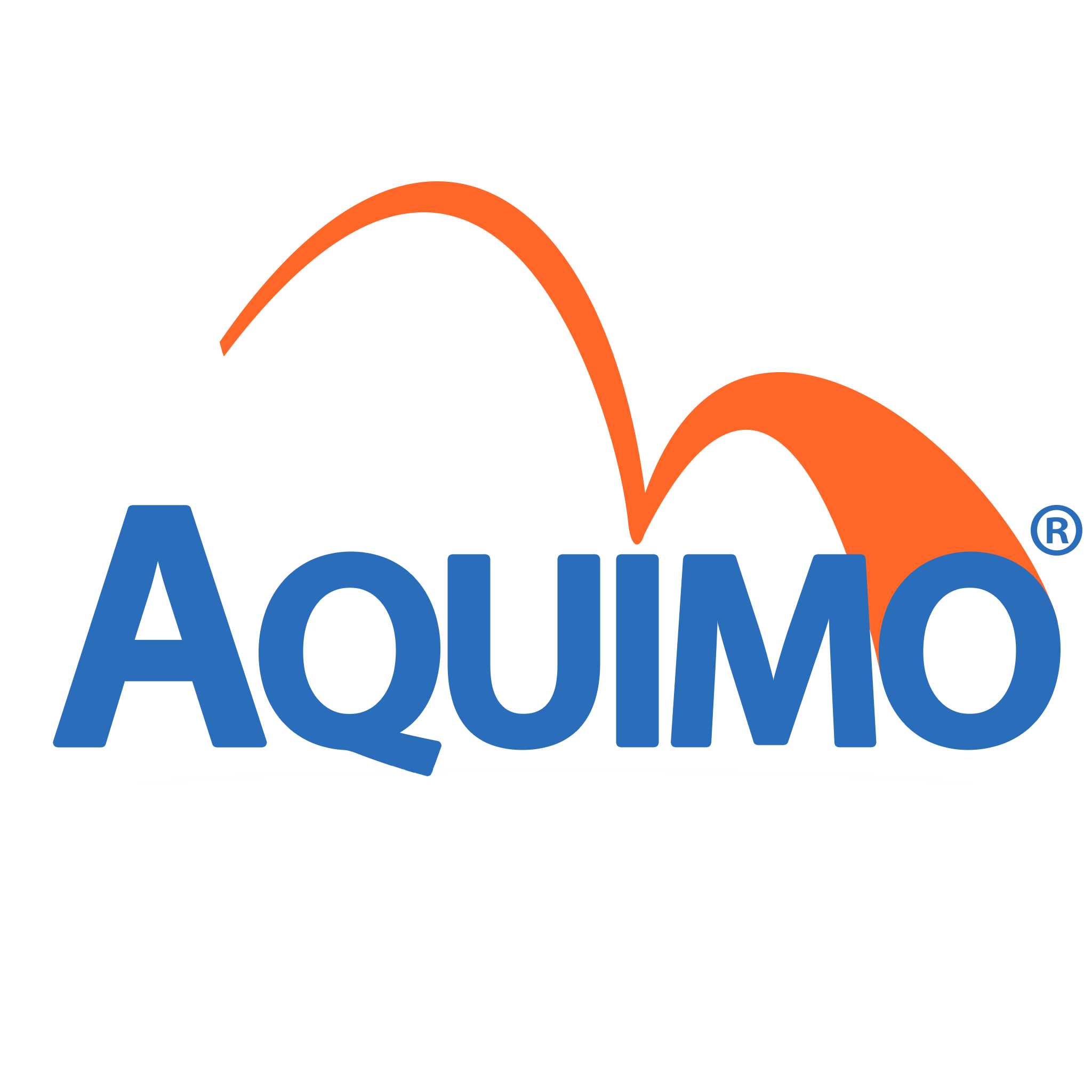 Born in 2018
Incorporated: Delaware, USA
Offices: Mesa, Arizona, USA & Gurgaon, India
Funding to date: $10M
Shareholding: Founders & High Net-Worth Individuals
Staff: 18 with 5 hires in-progress

COVID RESILIENT
Grew players to 4 Million and expanded to 49 teams.
DEEP SECTOR EXPERTISE
Experienced Management Team with proven record to date.
GROWTH FOCUSED
Excellent track record of signing, keeping and upselling deals w/ blue chip customers.
MARKET TIMING
Market and regulatory changes have given Aquimo a strong tailwind.
_
_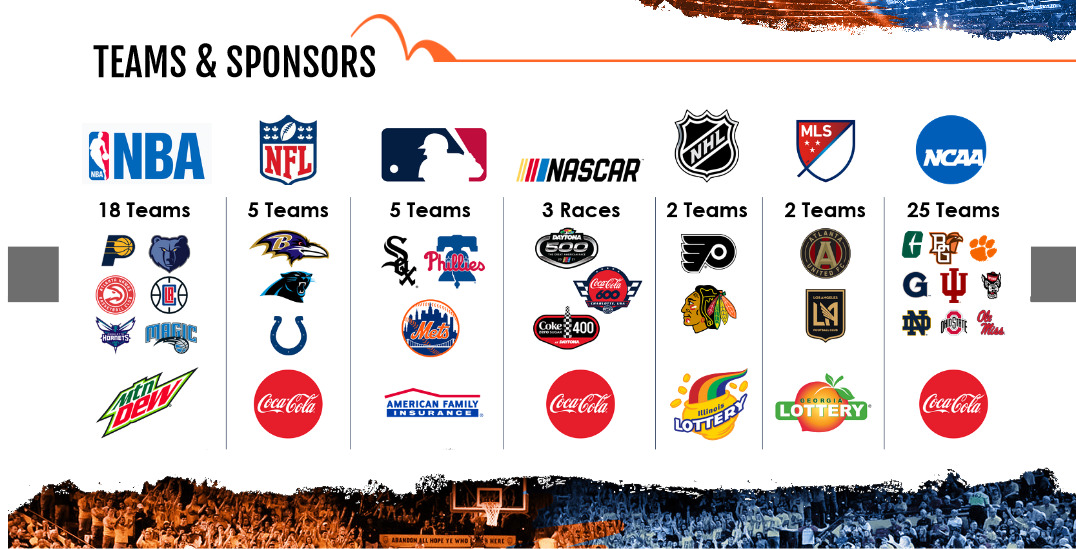 TEAMS & SPONSORS
_
_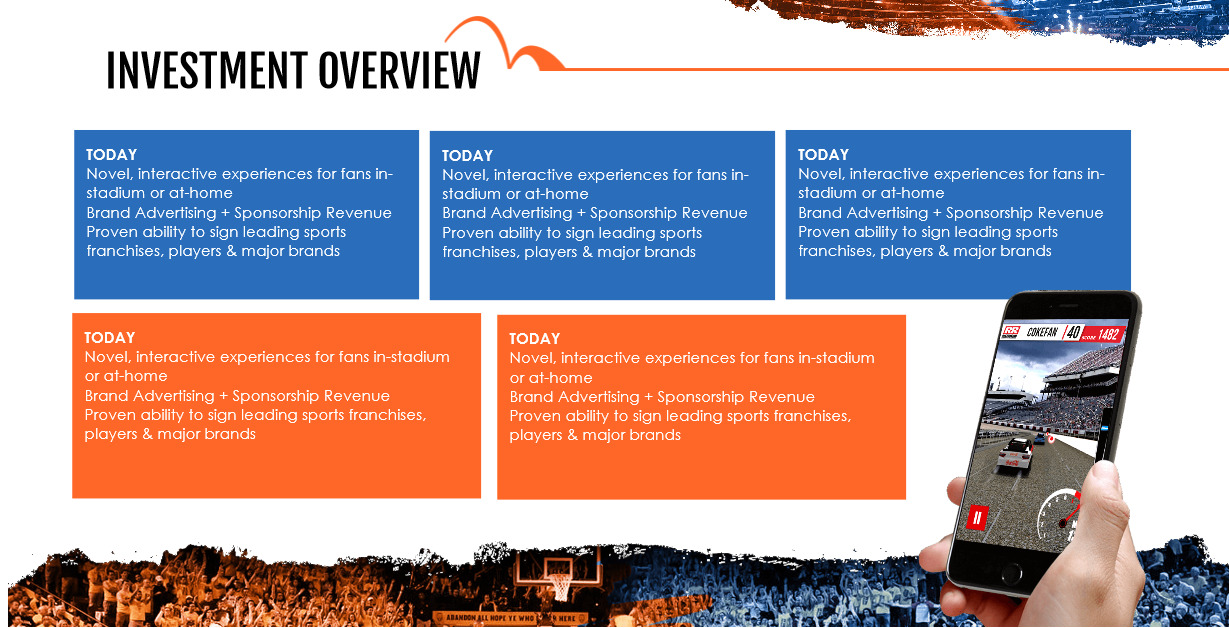 INVESTMENT OVERVIEW
TODAY

-Novel, interactive experiences for fans in-stadium or at-home
-Brand Advertising + Sponsorship Revenue
-Proven ability to sign leading sports franchises, players & major brands

TEAM
-Mature & proven management
-Scalable architecture
-Lean & efficient operating structures
-Strong customer loyalty & proven retention

PRODUCT INNOVATION
-Reach customers in-stadium, @home, & entertainment locations
-30+ patent assets
-New market segments and higher margin products make Aquimo an attractive investment proposition
-Gaming companies typically have higher valuations than media companies

TOMORROW
-Growth strategy designed to diversify & add high-margin P2P products in all 41 legal states
-Roll-out P2P gaming product initially as an up-sell to existing customer base
-Operational focus to build on existing sales, management & innovation
-Capital efficient growth story with high cash generation potential

EXIT POTENTIAL
-Revenue:
2021: $2M
2026: $75M

-EBITDA:
2021: ($1.4M)
2026: $32.4M

-Greater exit potential & valuation based on growth strategy
-Total players: 2021: 4.2M 2026: 48M -Total teams: 2021: 100 2026: 245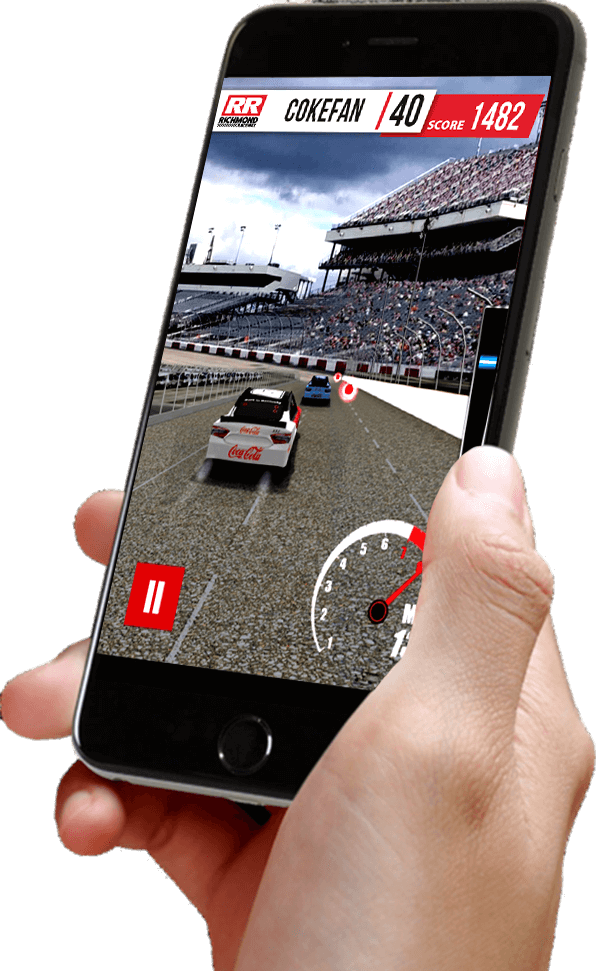 _
_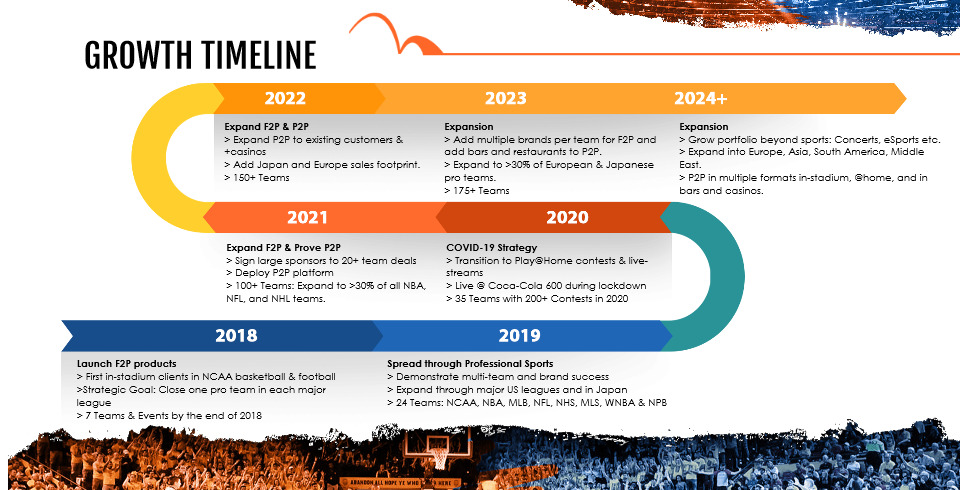 GROWTH TIMELINE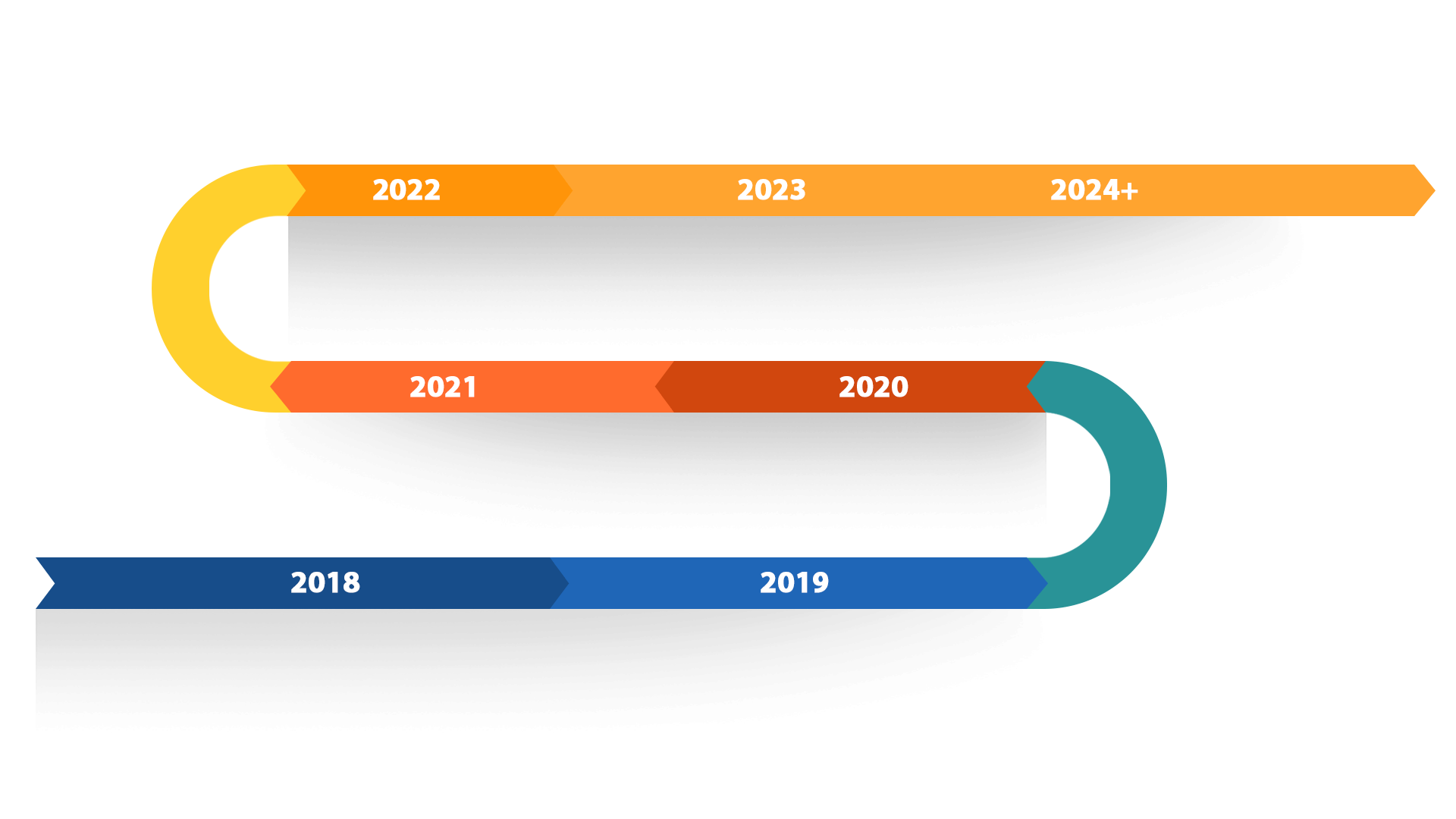 Expansion
> Grow portfolio beyond sports: Concerts, eSports etc.
> Expand into Europe, Asia, South America, Middle East.
> P2P in multiple formats in-stadium, @home, and in bars and casinos.

Expand F2P & P2P
> Expand P2P to existing customers & +casinos
> Add Japan and Europe sales footprint.
> 150+ Teams

Expansion
> Add multiple brands per team for F2P and add bars and restaurants to P2P.
> Expand to >30% of European & Japanese pro teams.
> 175+ Teams

Expand F2P & Prove P2P
> Sign large sponsors to 20+ team deals
> Deploy P2P platform
> 100+ Teams: Expand to >30% of all NBA, NFL, and NHL teams.

COVID-19 Strategy
> Transition to Play@Home contests & live-streams
> Live @ Coca-Cola 600 during lockdown
> 35 Teams with 200+ Contests in 2020

Launch F2P products
> First in-stadium clients in NCAA basketball & football
>Strategic Goal: Close one pro team in each major league
> 7 Teams & Events by the end of 2018

Spread through Professional Sports
> Demonstrate multi-team and brand success
> Expand through major US leagues and in Japan
> 24 Teams: NCAA, NBA, MLB, NFL, NHS, MLS, WNBA & NPB

_
_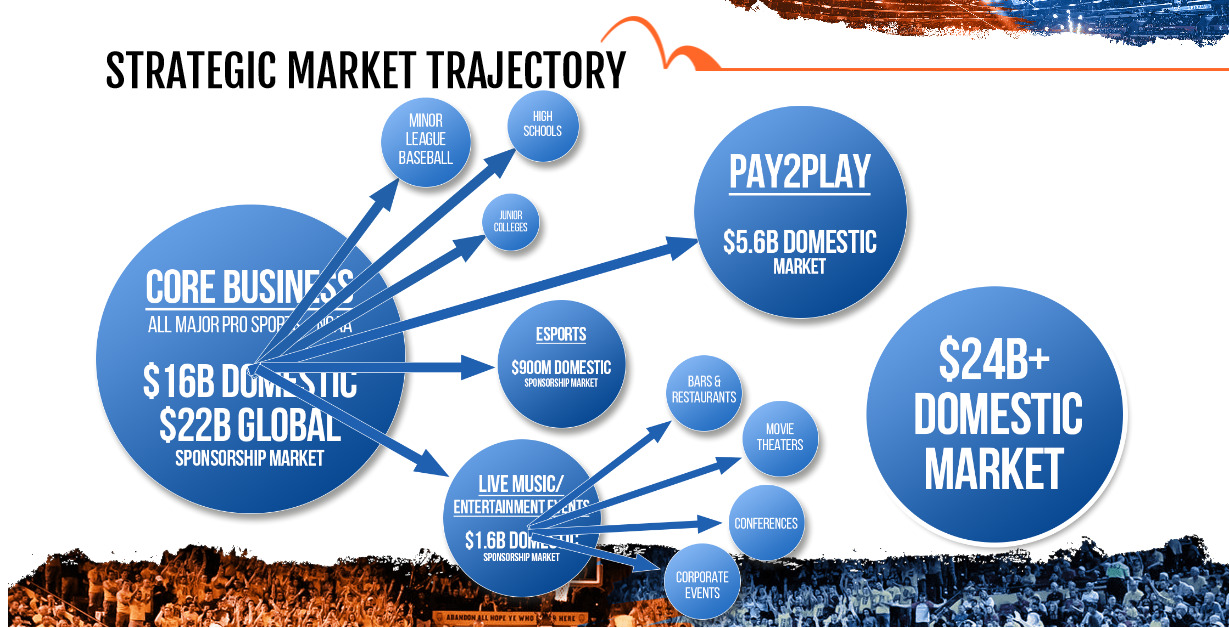 STRATEGIC MARKET TRAJECTORY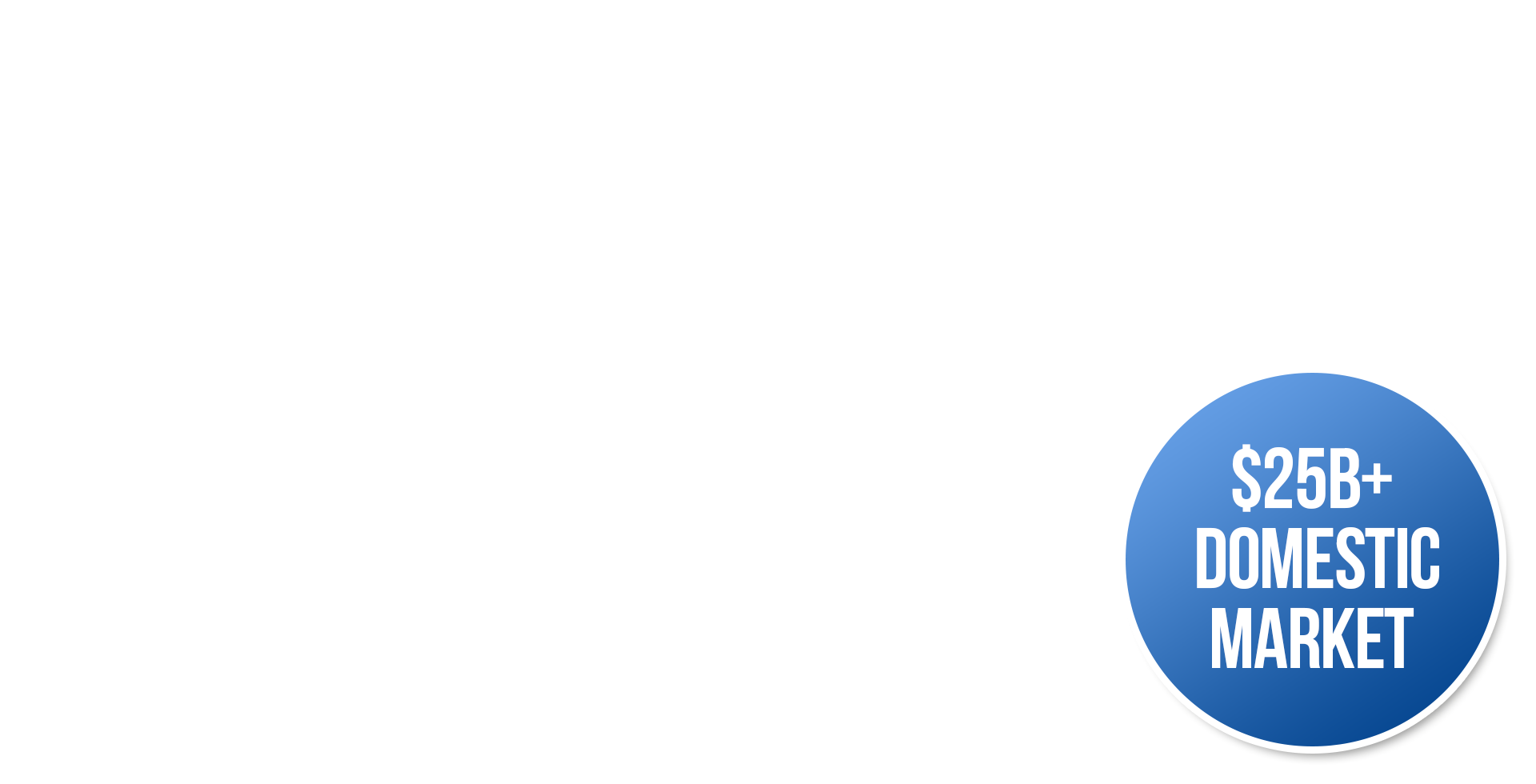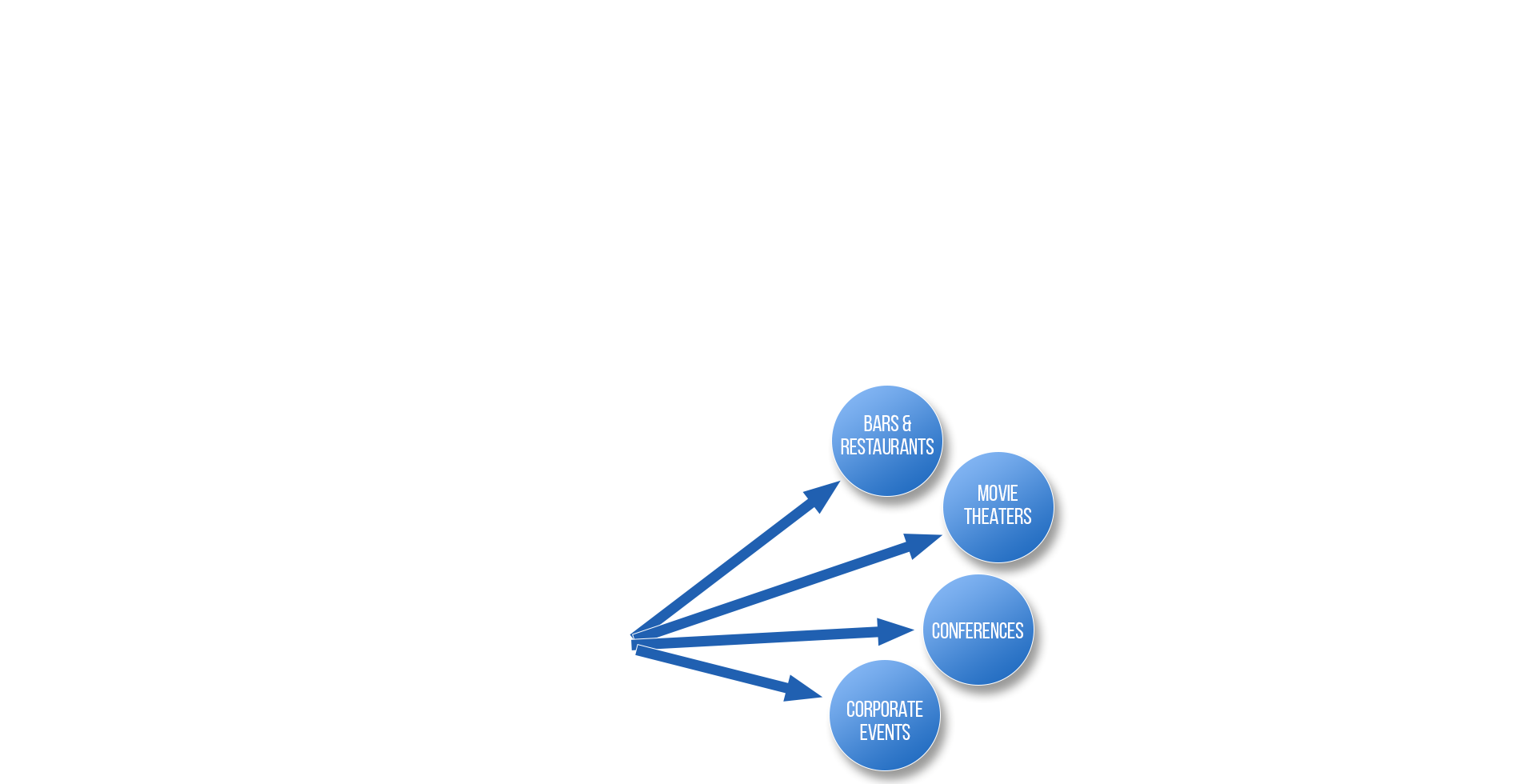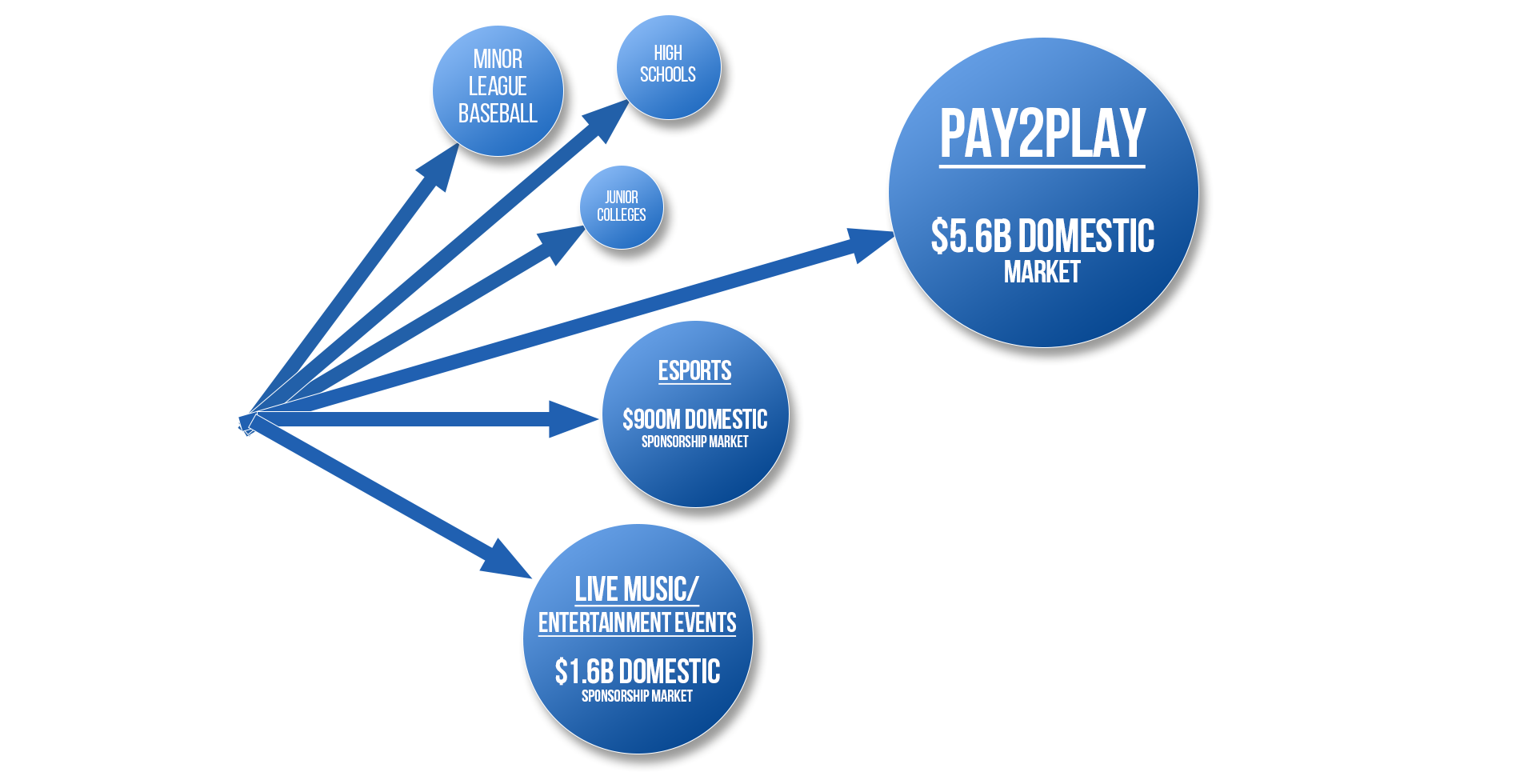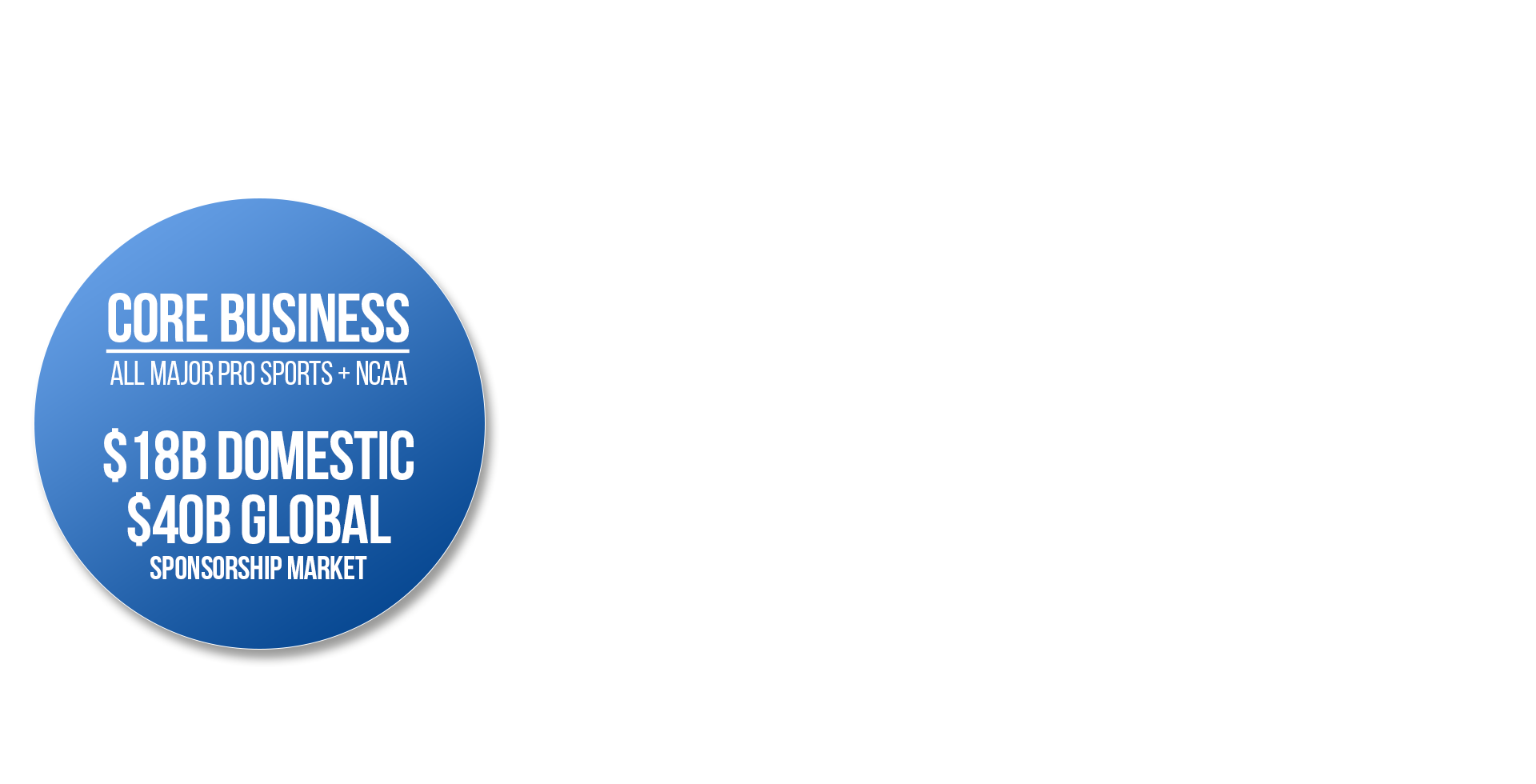 _
_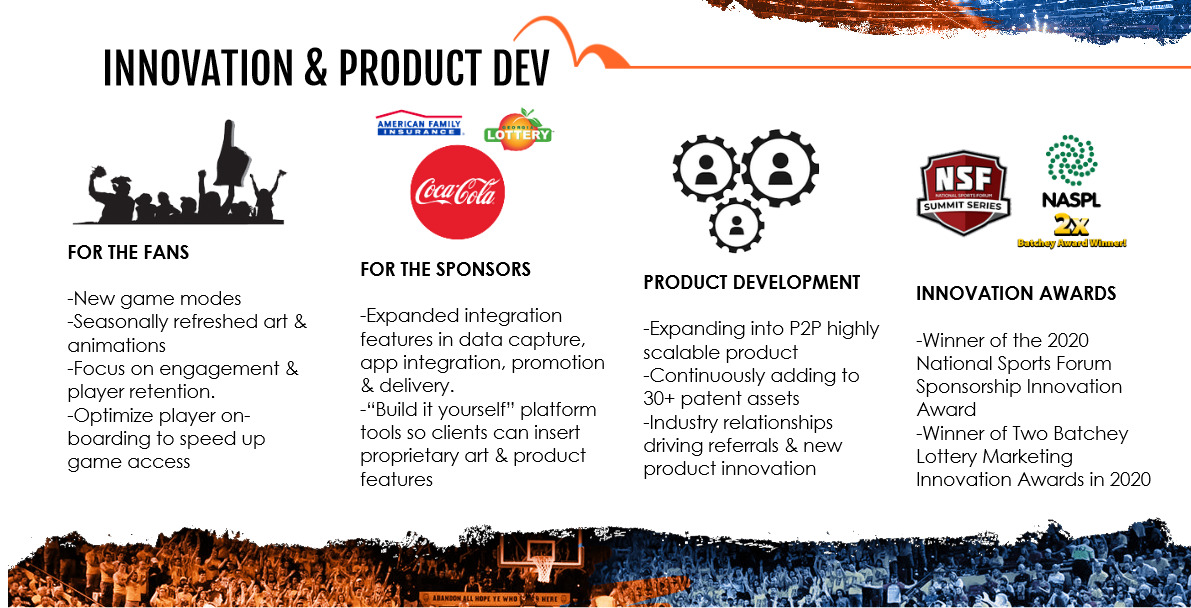 INNOVATION & PRODUCT DEV
FOR THE FANS

-New game modes
-Seasonally refreshed art & animations
-Focus on engagement & player retention.
-Optimize player on-boarding to speed up game access

FOR THE SPONSORS

-Expanded integration features in data capture, app integration, promotion & delivery.
-"Build it yourself" platform tools so clients can insert proprietary art & product features
PRODUCT DEVELOPMENT

-Expanding into P2P highly scalable product
-Continuously adding to 30+ patent assets
-Industry relationships driving referrals & new product innovation

INNOVATION AWARDS

-Winner of the 2020 National Sports Forum Sponsorship Innovation Award
-Winner of Two Batchey Lottery Marketing Innovation Awards in 2020


_
_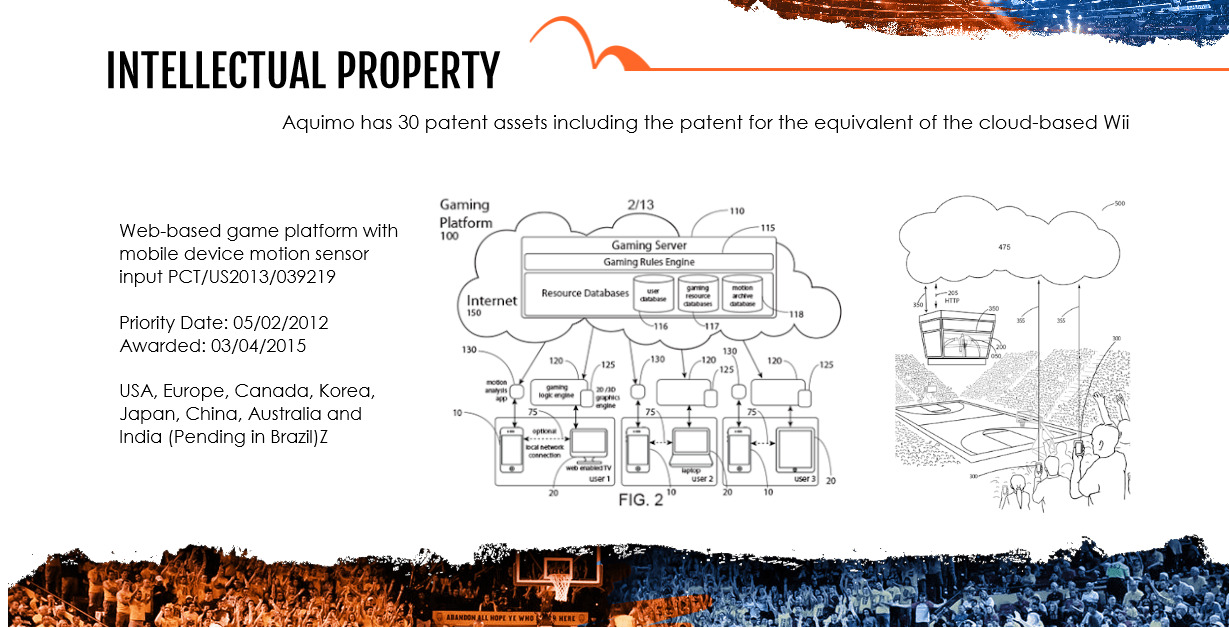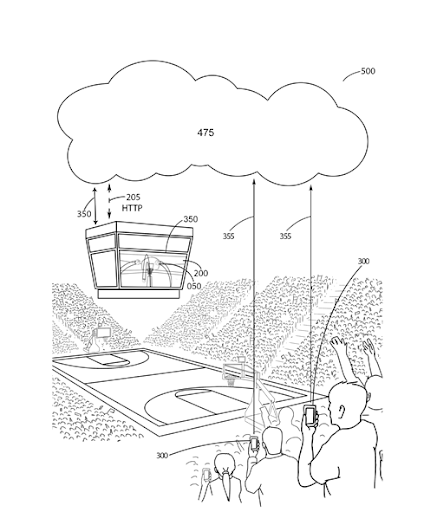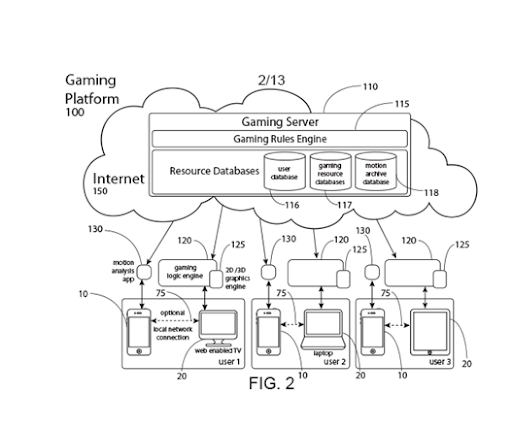 INTELLECTUAL PROPERTY
Web-based game platform with mobile device motion sensor input PCT/US2013/039219

Priority Date: 05/02/2012
Awarded: 03/04/2015

USA, Europe, Canada, Korea, Japan, China, Australia and India (Pending in Brazil)Z
Aquimo has 30 patent assets including the patent for the equivalent of the cloud-based Wii
_
_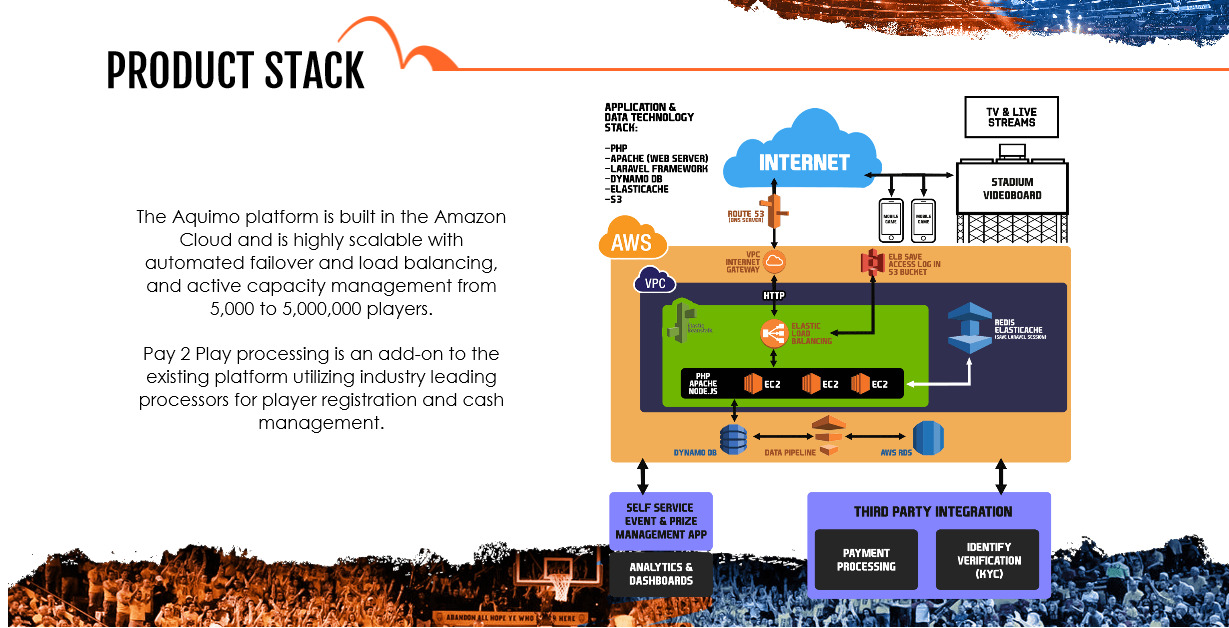 PRODUCT STACK
The Aquimo platform is built in the Amazon Cloud and is highly scalable with automated failover and load balancing, and active capacity management from 5,000 to 5,000,000 players.

Pay 2 Play processing is an add-on to the existing platform utilizing industry leading processors for player registration and cash management.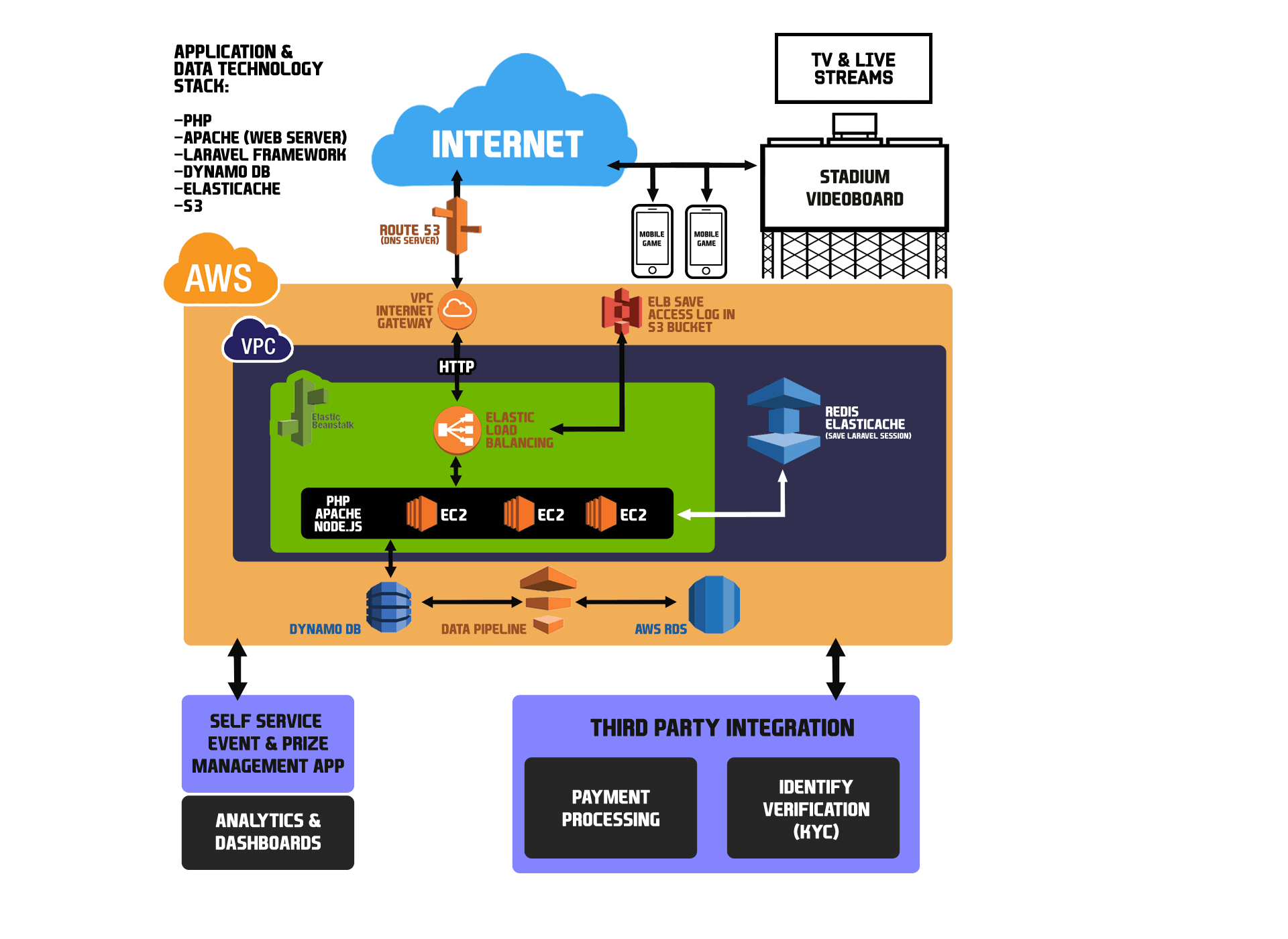 _
_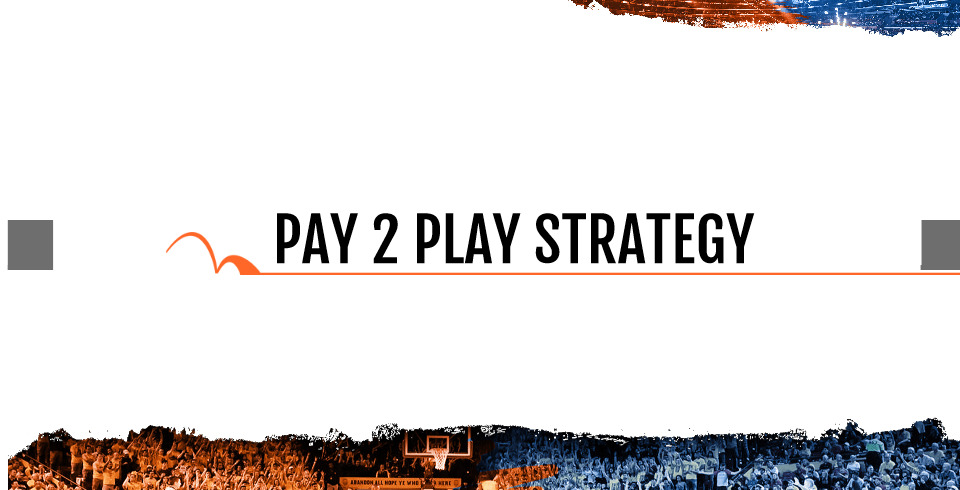 PAY 2 PLAY STRATEGY
_
_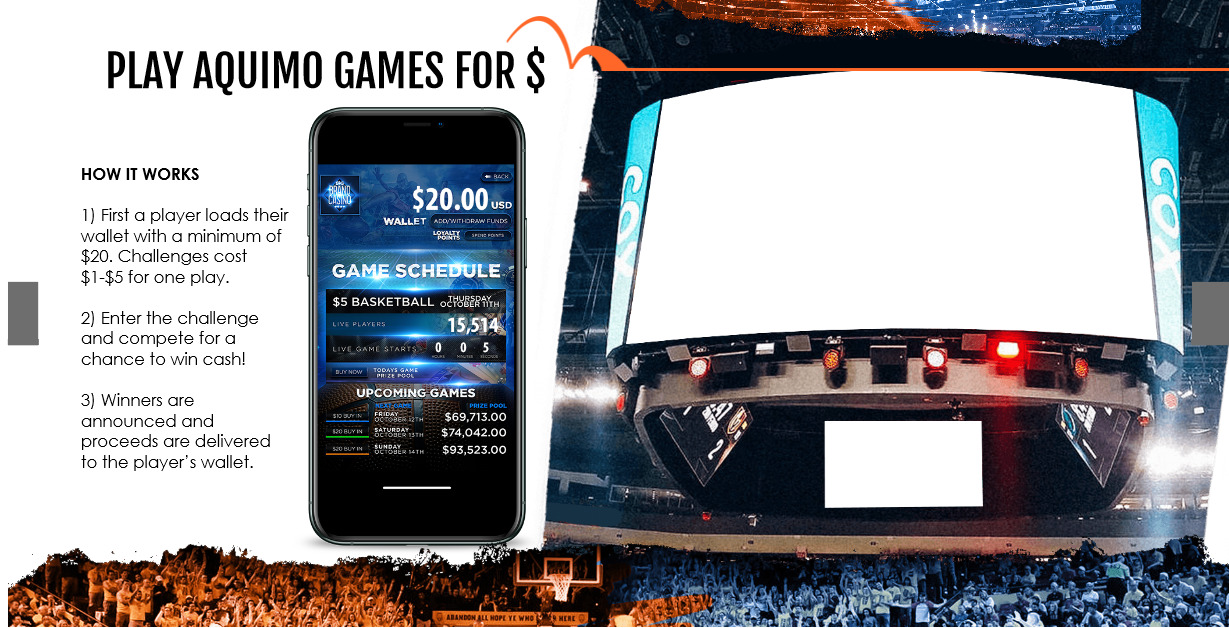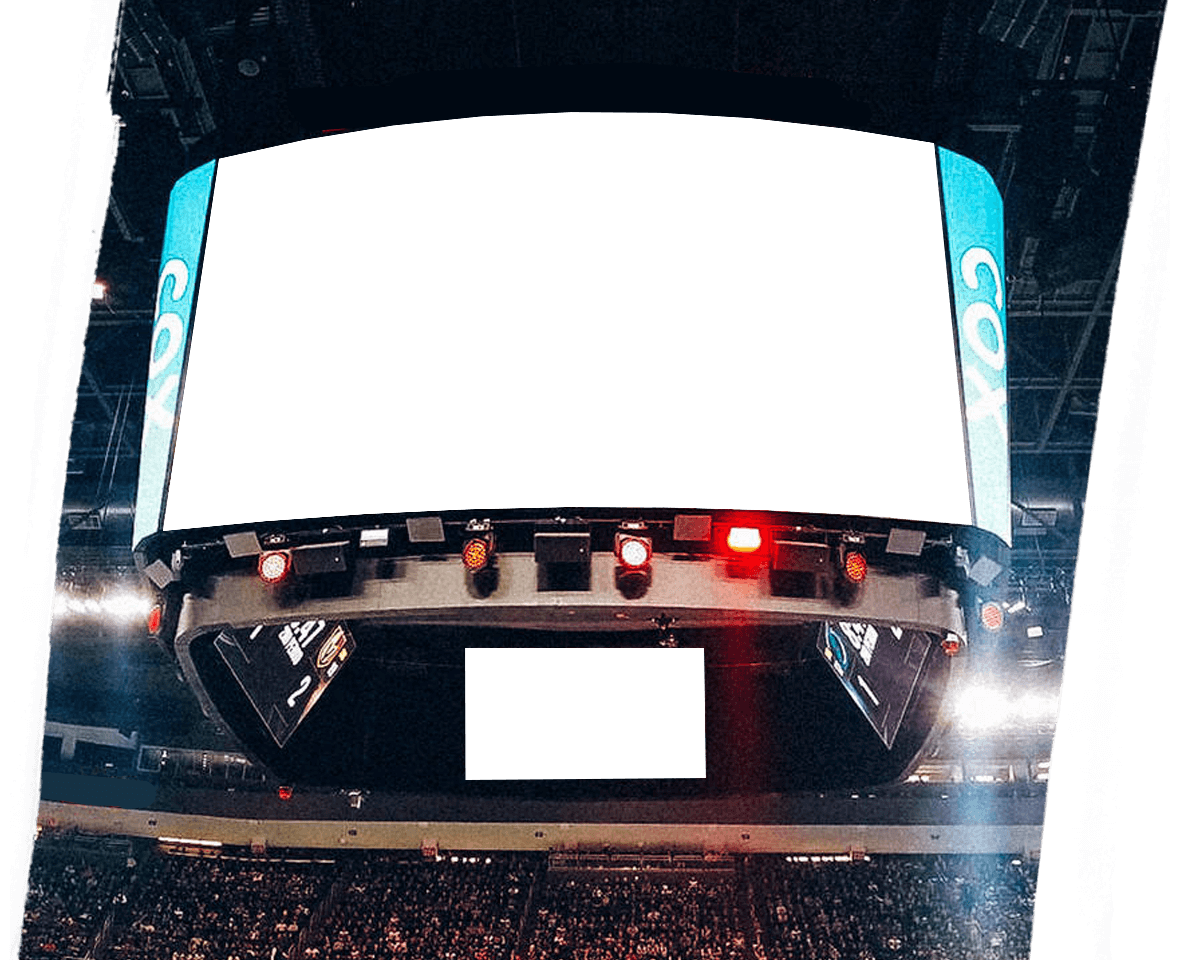 __
Copyright © 2021 Aquimo LLC. All Rights Reserved.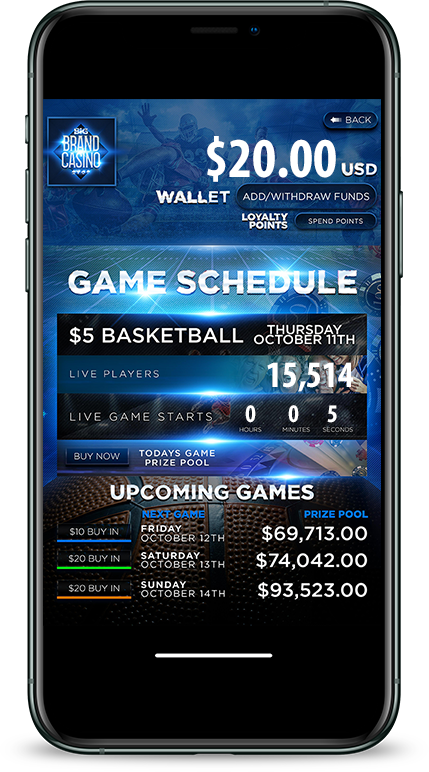 HOW IT WORKS

1) First a player loads their wallet with a minimum of $20. Challenges cost $1-$5 for one play.

2) Enter the challenge and compete for a chance to win cash!

3) Winners are announced and proceeds are delivered to the player's wallet.

Confidential


PLAY AQUIMO GAMES FOR $
_
_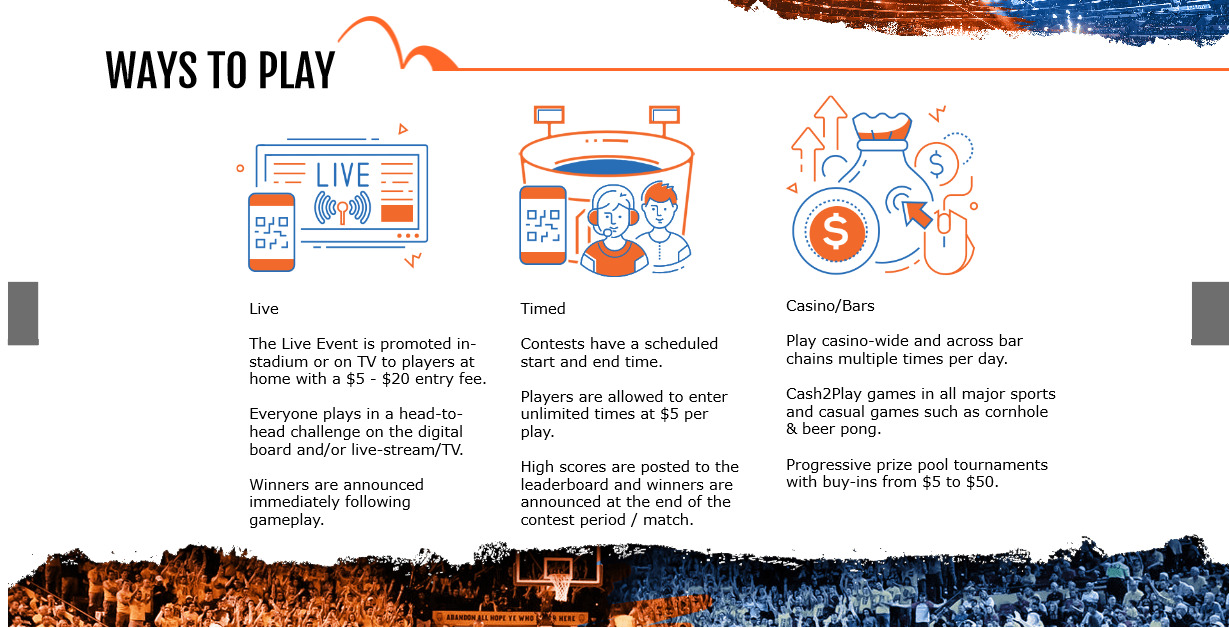 Copyright © 2021 Aquimo LLC. All Rights Reserved.
Live

The Live Event is promoted in-stadium or on TV to players at home with a $5 - $20 entry fee.

Everyone plays in a head-to-head challenge on the digital board and/or live-stream/TV.

Winners are announced immediately following gameplay.
Timed

Contests have a scheduled start and end time.

Players are allowed to enter unlimited times at $5 per play.

High scores are posted to the leaderboard and winners are announced at the end of the contest period / match.
Casino/Bars

Play casino-wide and across bar chains multiple times per day.

Cash2Play games in all major sports and casual games such as cornhole & beer pong.

Progressive prize pool tournaments with buy-ins from $5 to $50.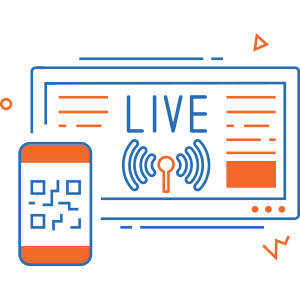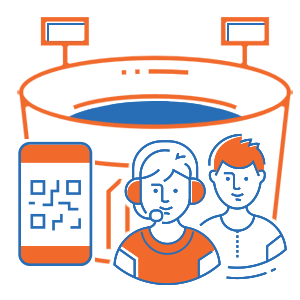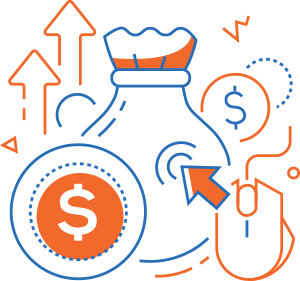 Confidential

WAYS TO PLAY
_
_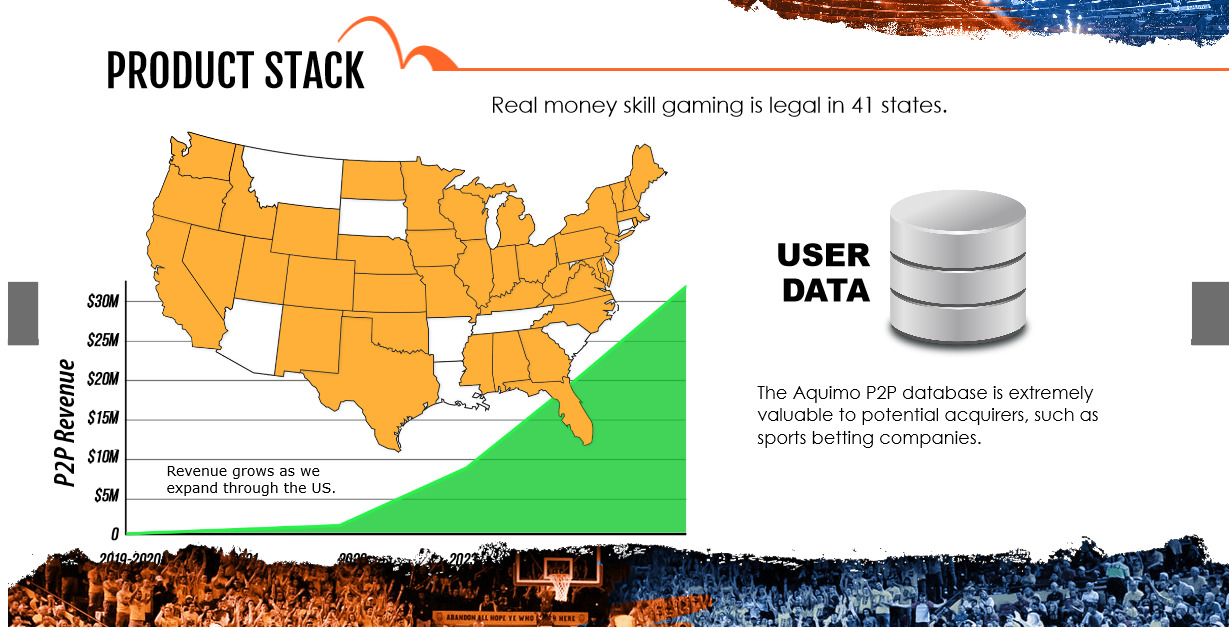 Copyright © 2021 Aquimo LLC. All Rights Reserved.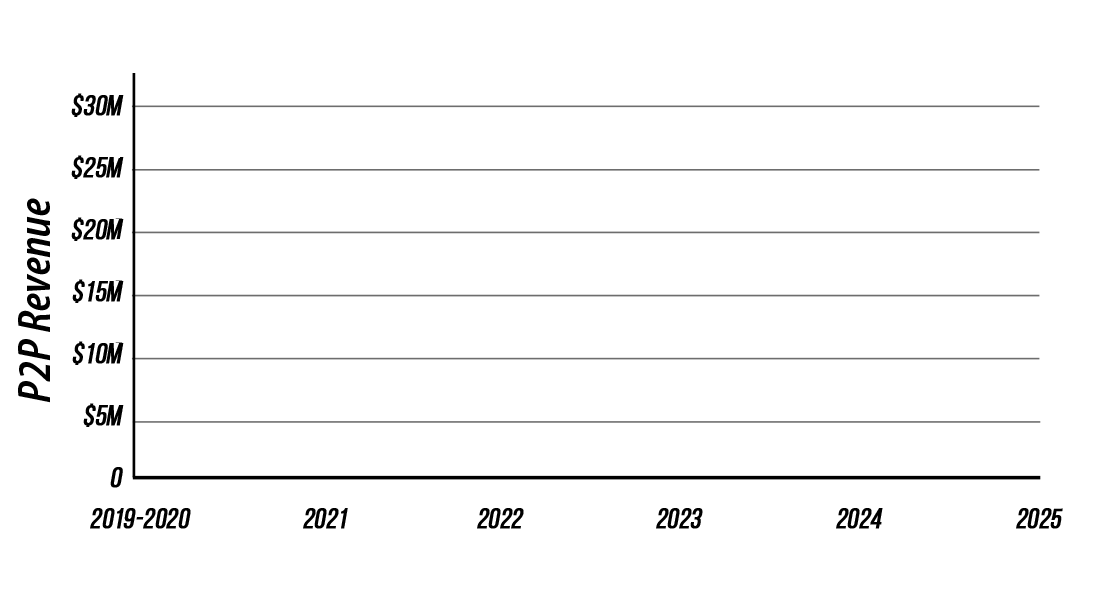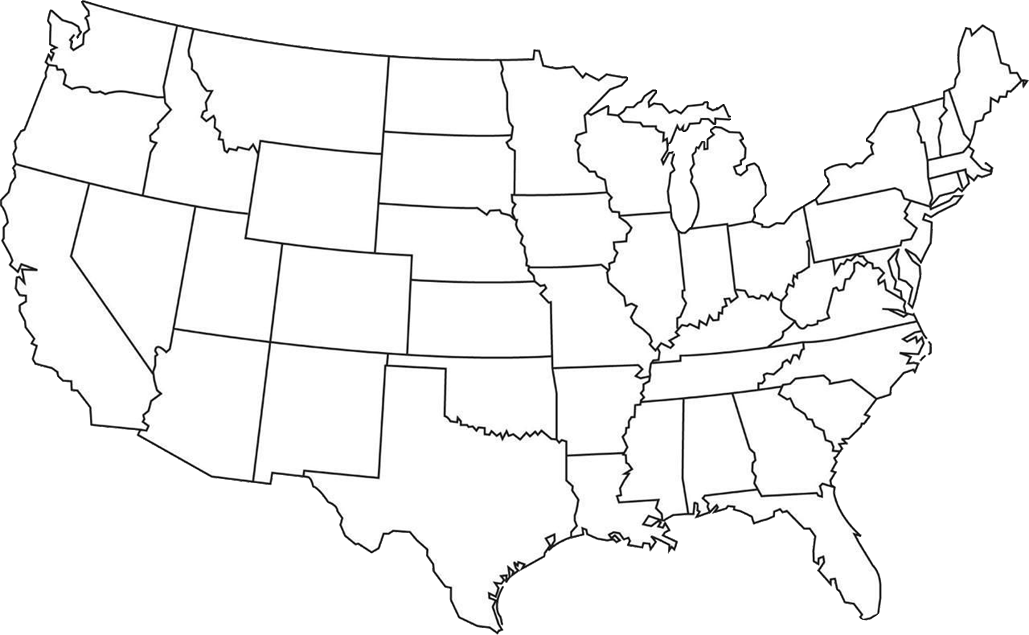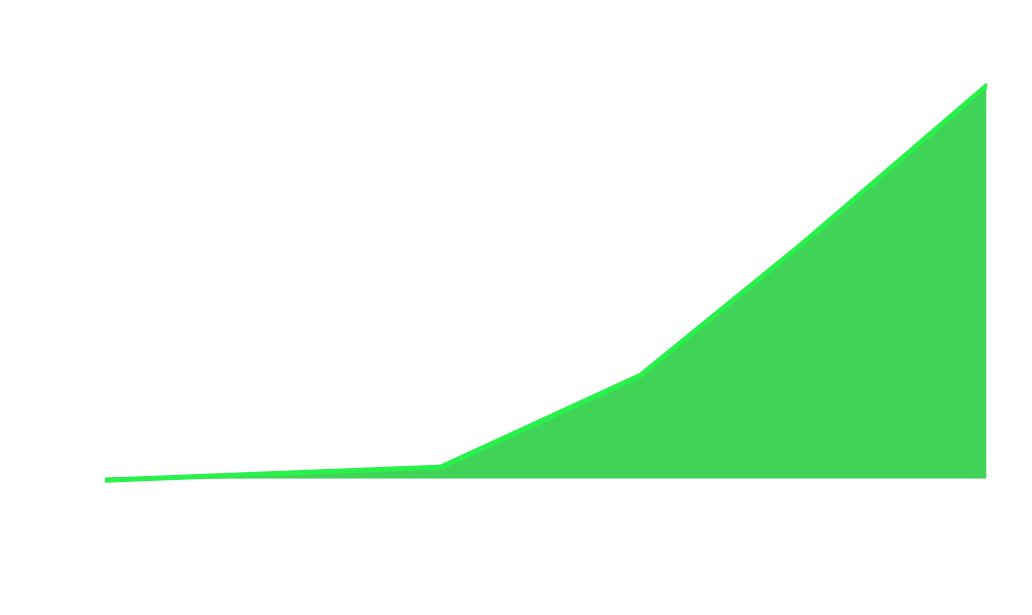 Revenue grows as we expand through the US.
The Aquimo P2P database is extremely valuable to potential acquirers, such as sports betting companies.
Real money skill gaming is legal in 41 states.
USER
DATA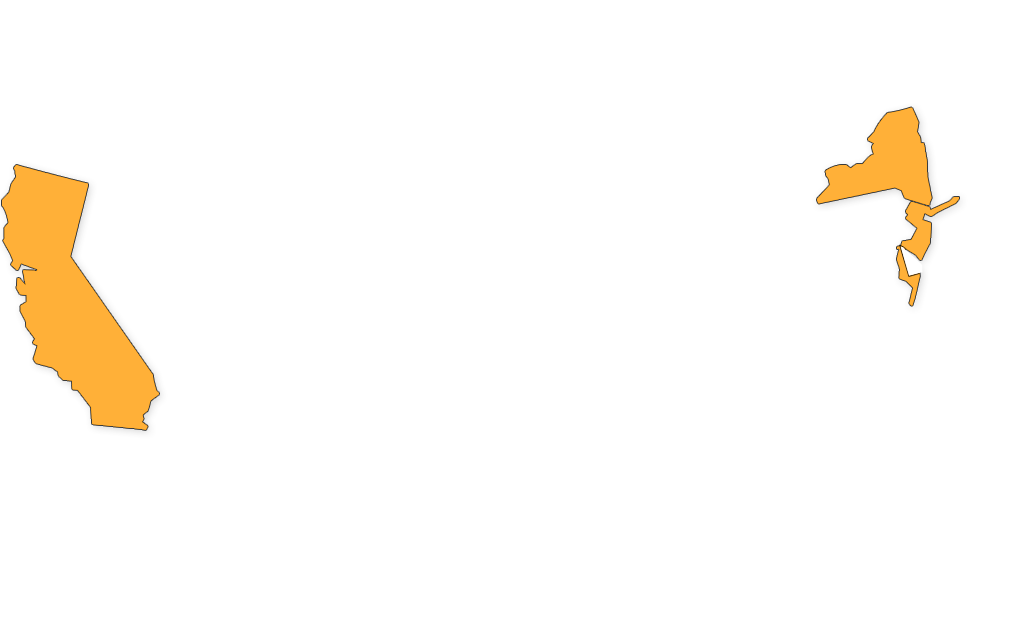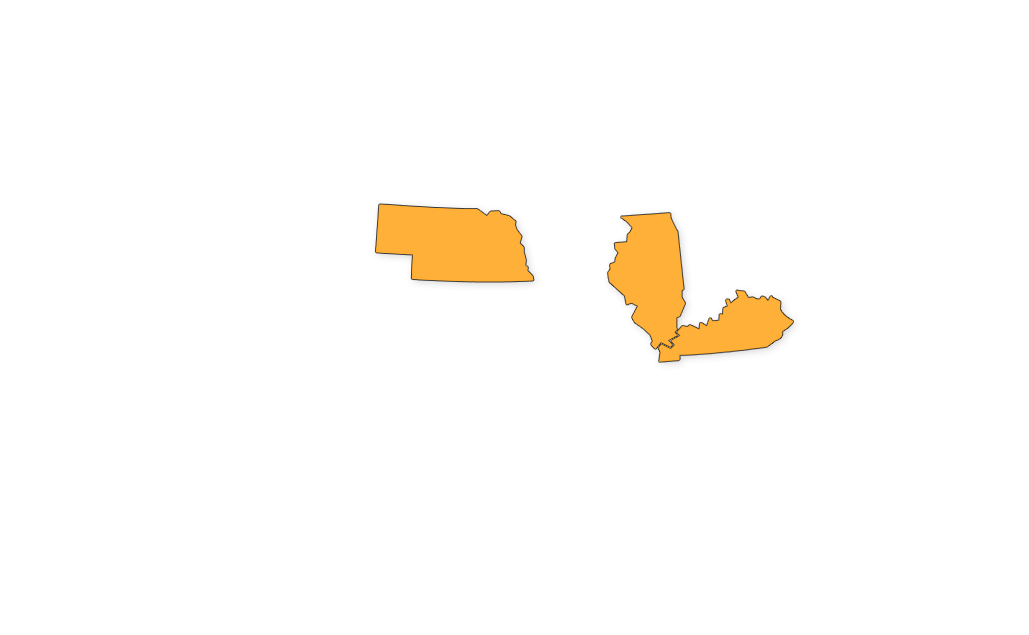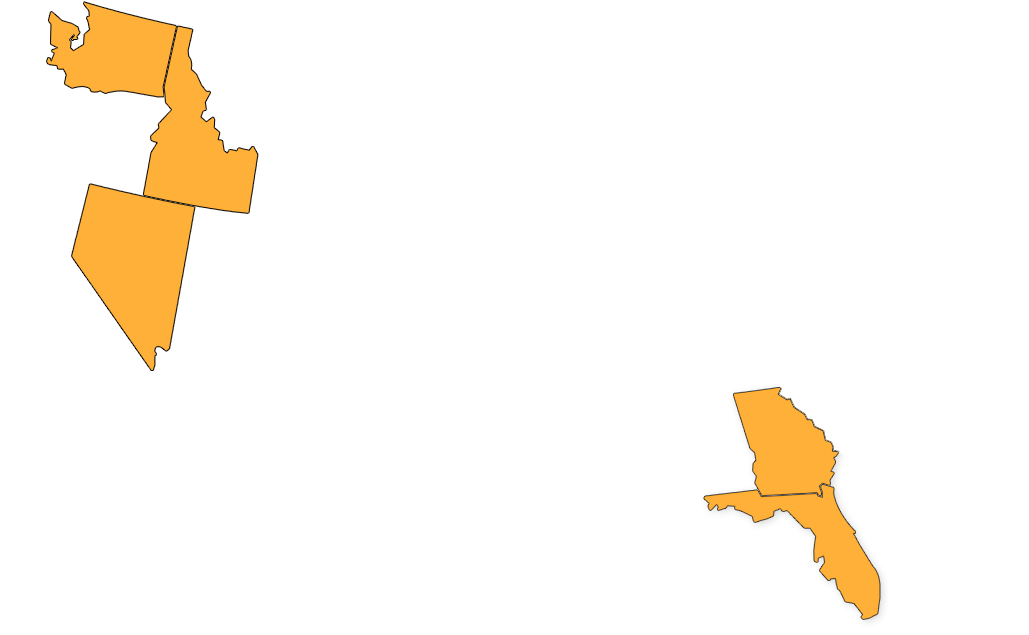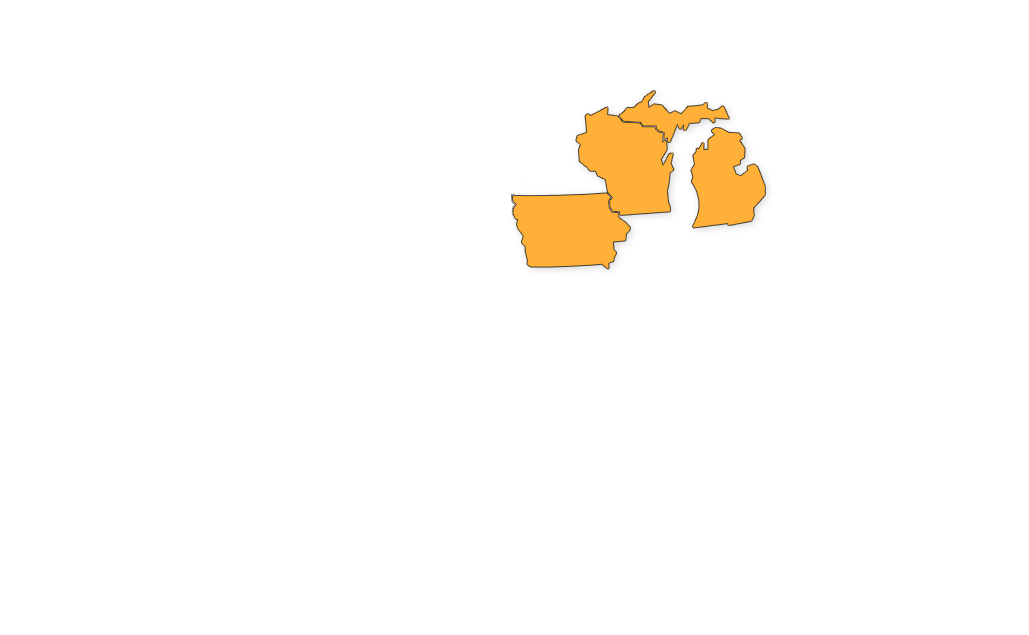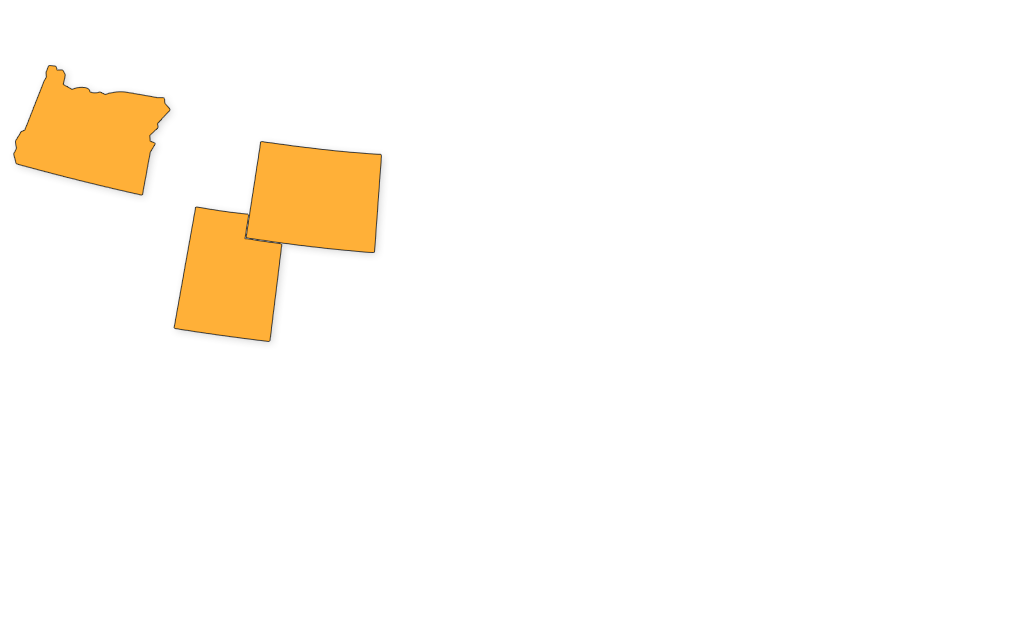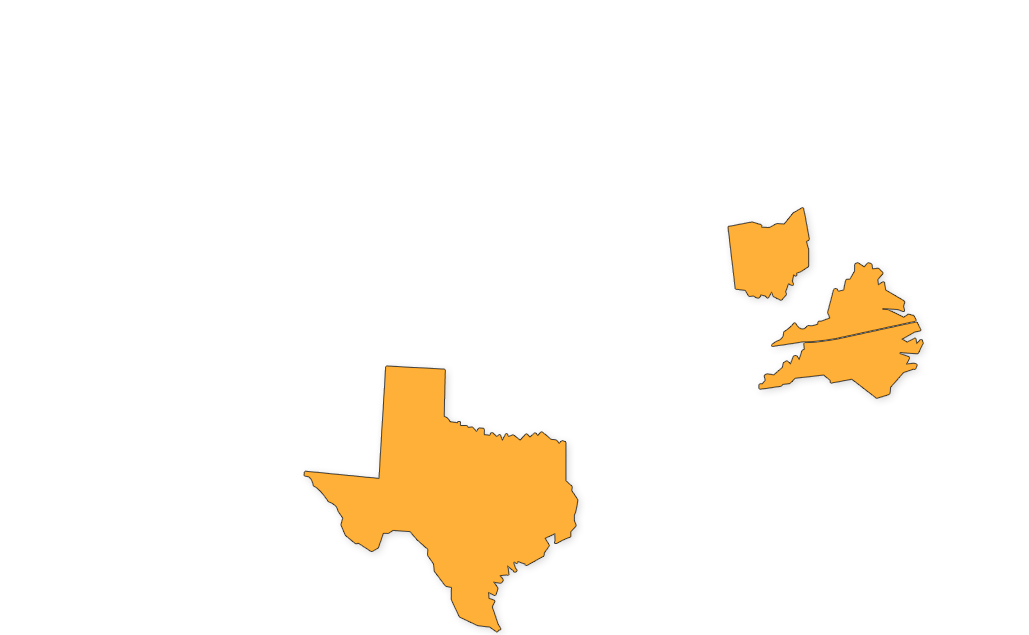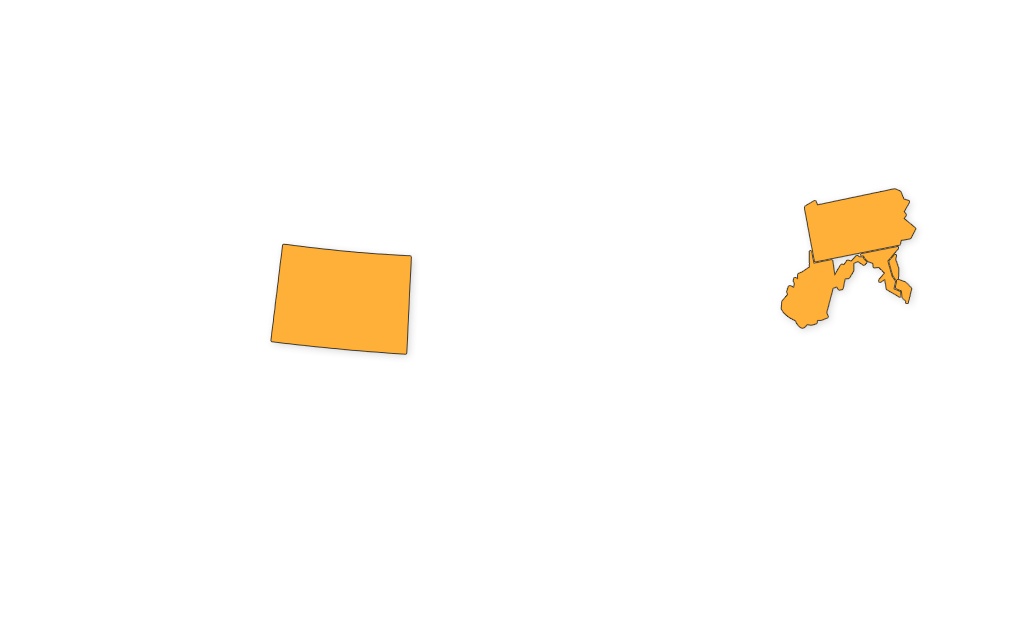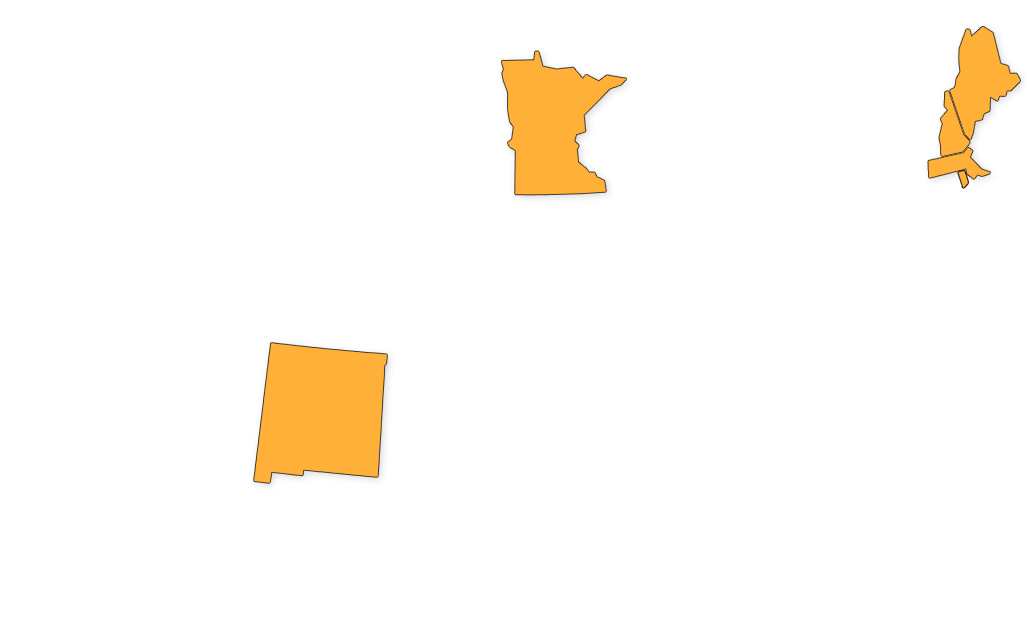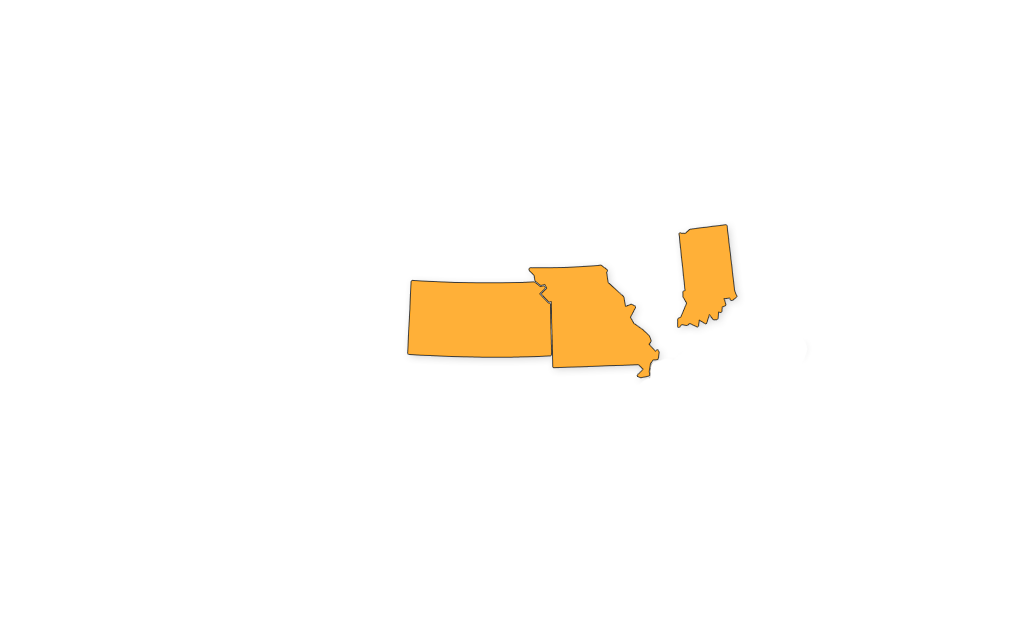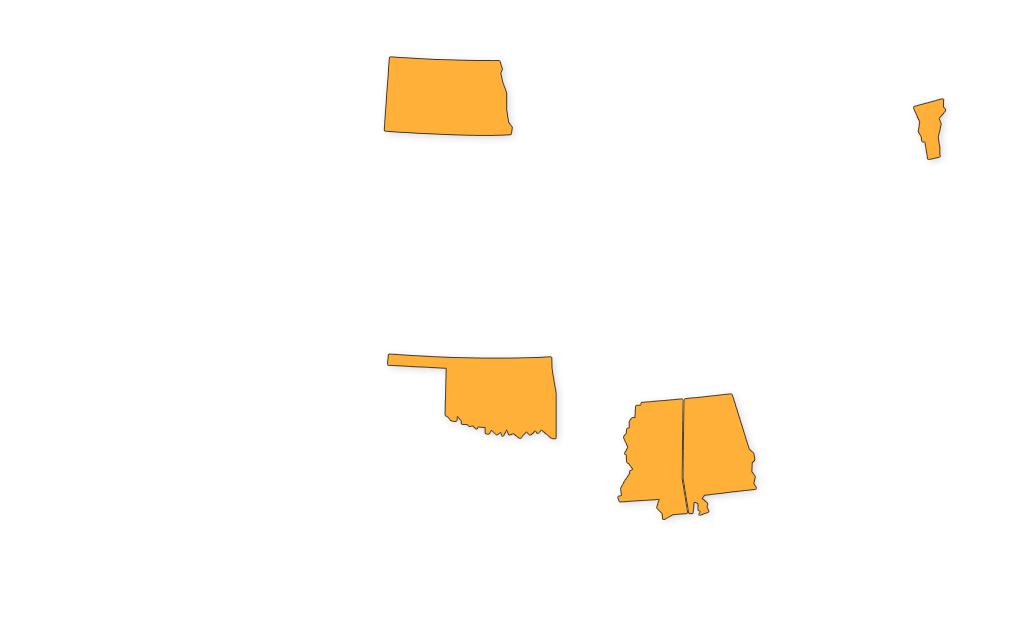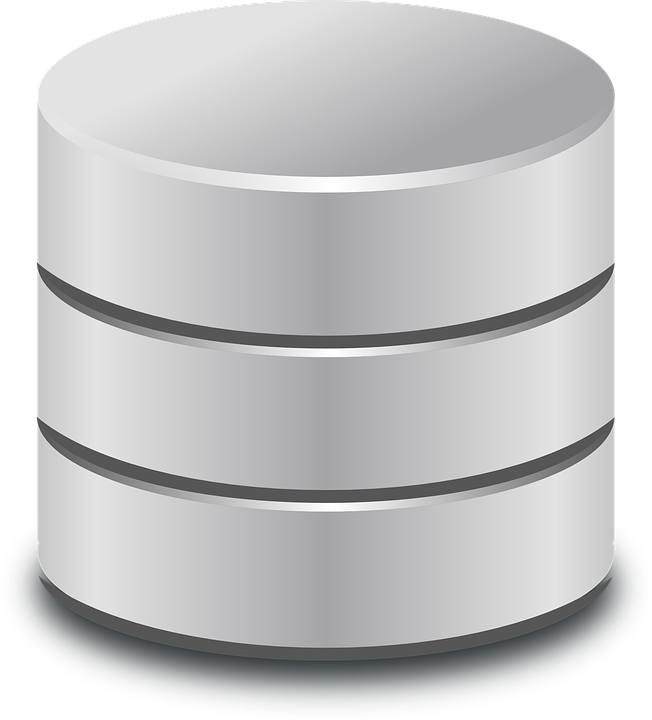 Confidential


PRODUCT STACK
_
_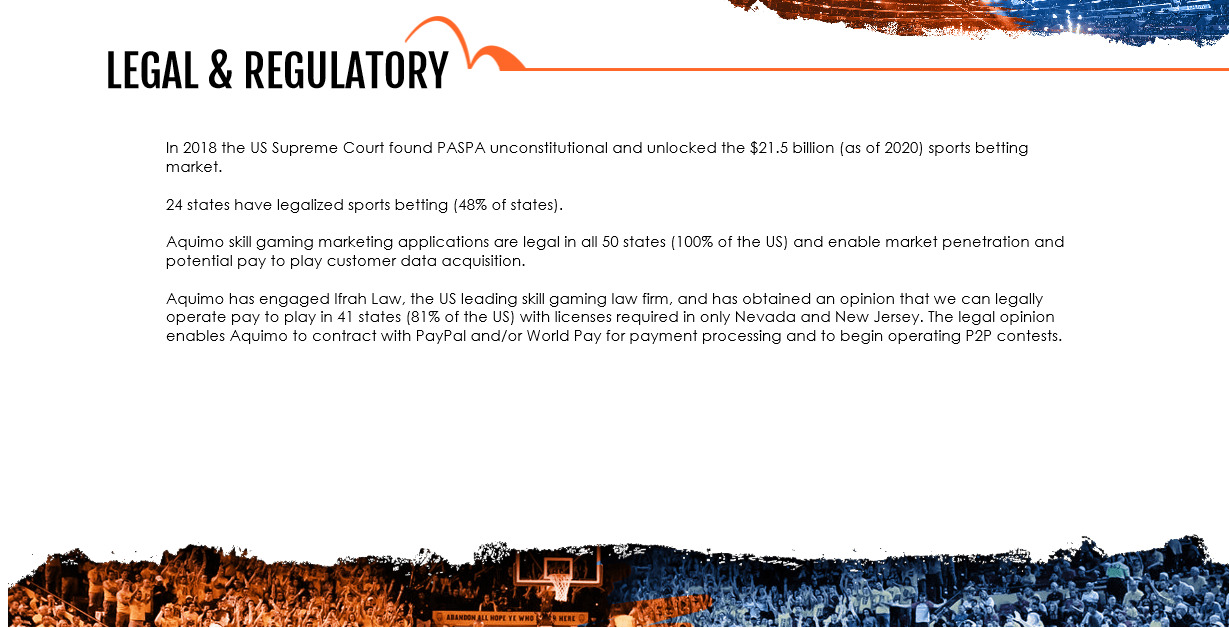 LEGAL & REGULATORY
In 2018 the US Supreme Court found PASPA unconstitutional and unlocked the $21.5 billion (as of 2020) sports betting market.

24 states have legalized sports betting (48% of states).

Aquimo skill gaming marketing applications are legal in all 50 states (100% of the US) and enable market penetration and potential pay to play customer data acquisition.

Aquimo has engaged Ifrah Law, the US leading skill gaming law firm, and has obtained an opinion that we can legally operate pay to play in 41 states (81% of the US) with licenses required in only Nevada and New Jersey. The legal opinion enables Aquimo to contract with PayPal and/or World Pay for payment processing and to begin operating P2P contests.


_
_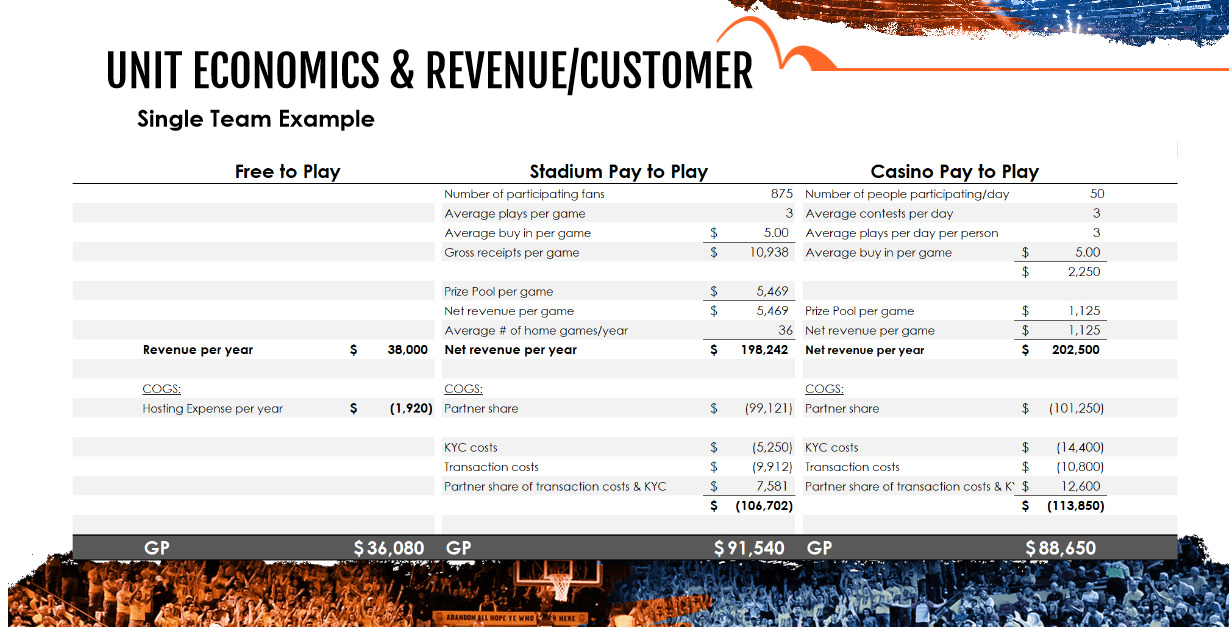 UNIT ECONOMICS & REVENUE/CUSTOMER

Single Team Example
_
_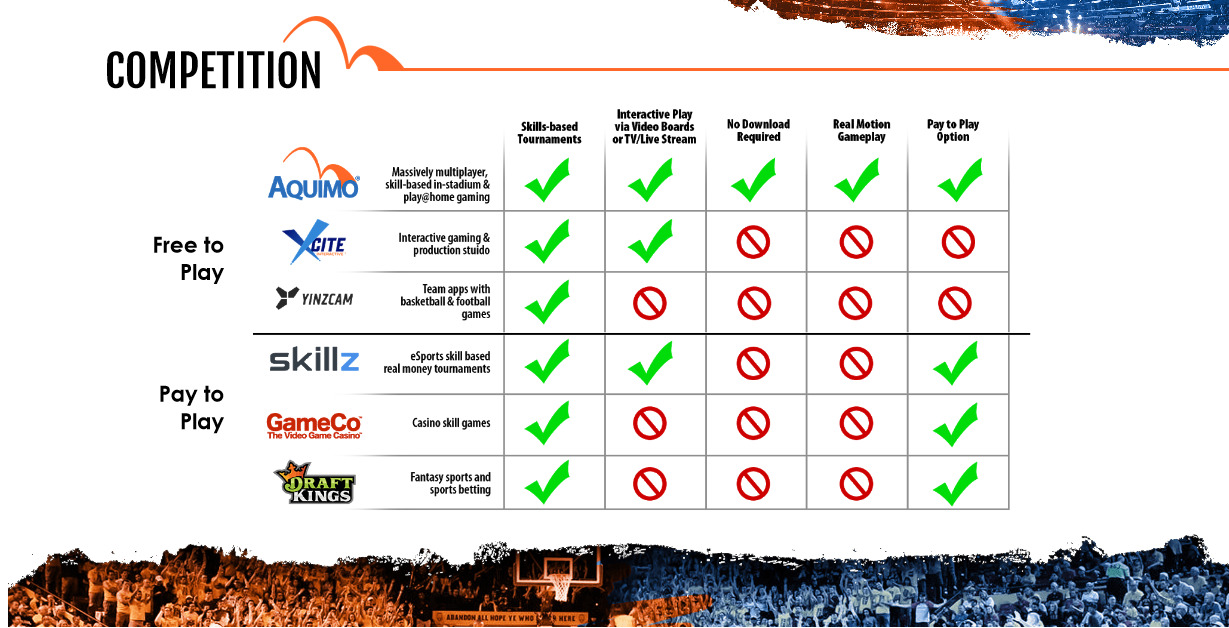 COMPETITION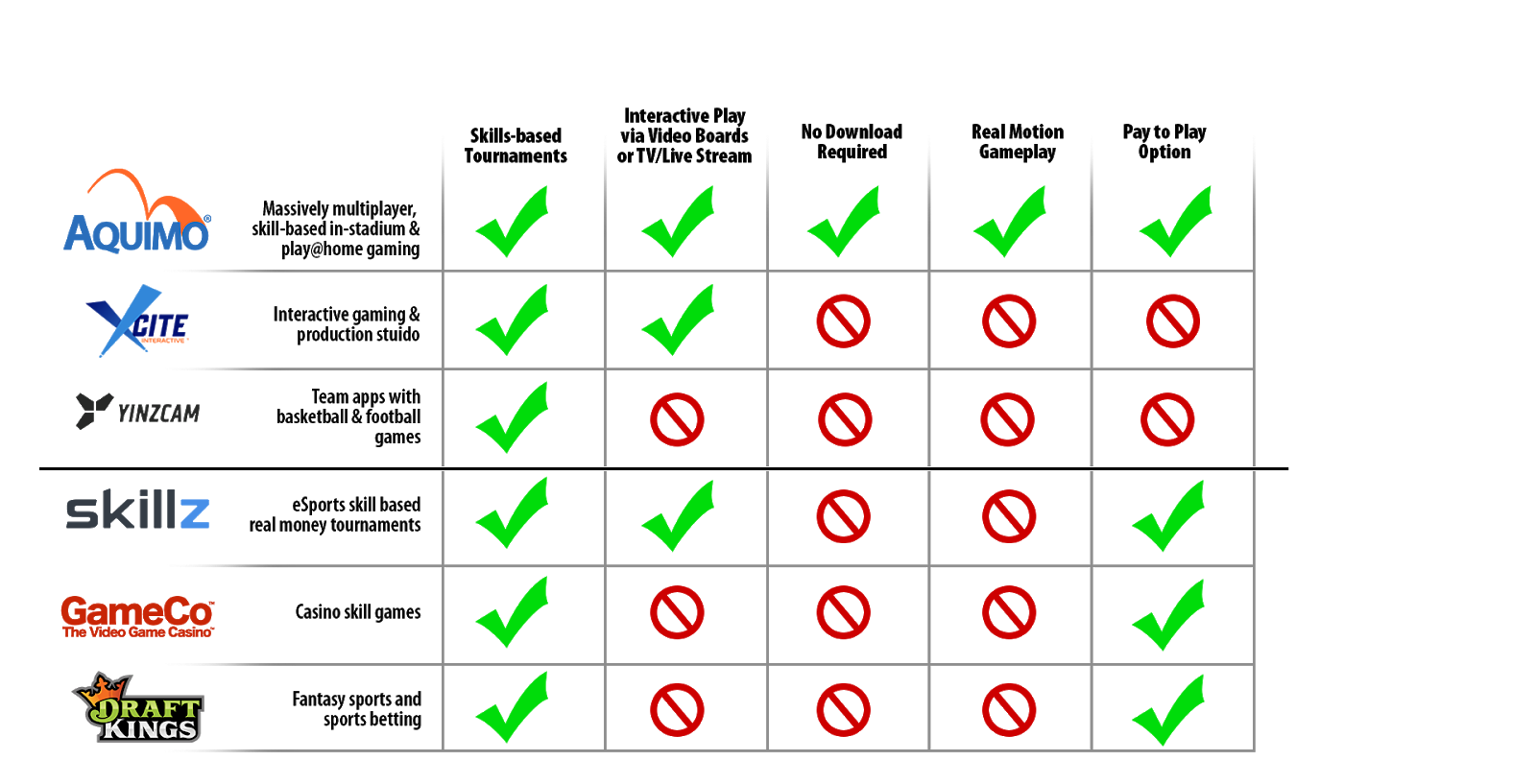 Free to
Play
Pay to
Play
_
_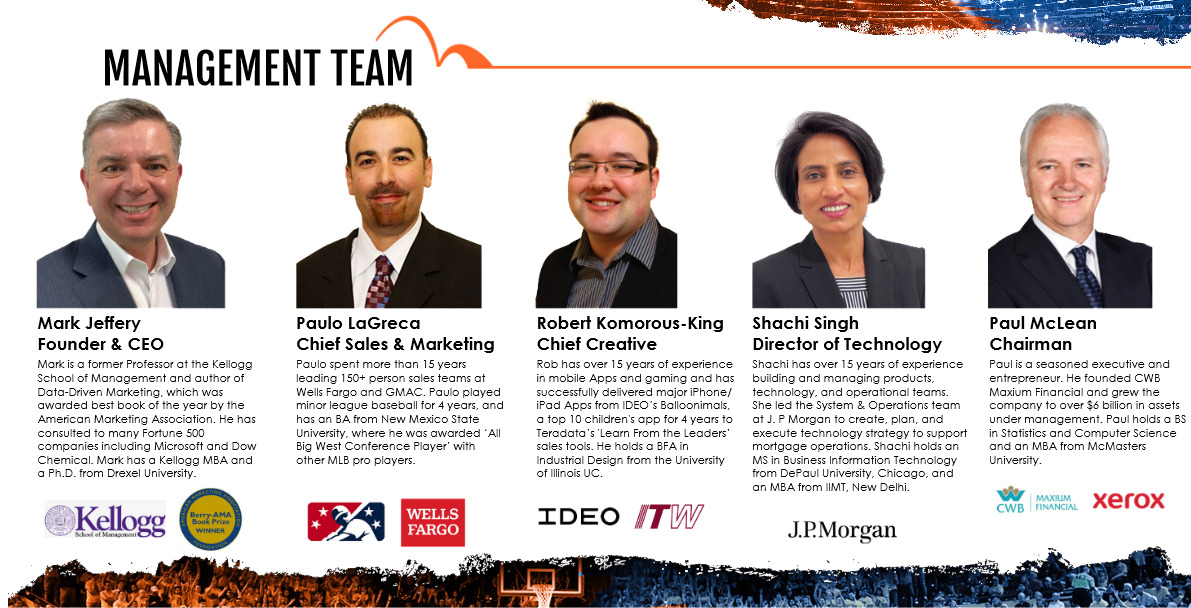 MANAGEMENT TEAM

Mark Jeffery
Founder & CEO
Mark is a former Professor at the Kellogg School of Management and author of Data-Driven Marketing, which was awarded best book of the year by the American Marketing Association. He has consulted to many Fortune 500 companies including Microsoft and Dow Chemical. Mark has a Kellogg MBA and a Ph.D. from Drexel University.
Paulo LaGreca
Chief Sales & Marketing
Paulo spent more than 15 years leading 150+ person sales teams at Wells Fargo and GMAC. Paulo played minor league baseball for 4 years, and has an BA from New Mexico State University, where he was awarded 'All Big West Conference Player' with other MLB pro players.
Robert Komorous-King
Chief Creative
Rob has over 15 years of experience in mobile Apps and gaming and has successfully delivered major iPhone/ iPad Apps from IDEO's Balloonimals, a top 10 children's app for 4 years to Teradata's 'Learn From the Leaders' sales tools. He holds a BFA in Industrial Design from the University of Illinois UC.
Shachi Singh
Director of Technology
Shachi has over 15 years of experience building and managing products, technology, and operational teams. She led the System & Operations team at J. P Morgan to create, plan, and execute technology strategy to support mortgage operations. Shachi holds an MS in Business Information Technology from DePaul University, Chicago, and an MBA from IIMT, New Delhi.
Paul McLean
Chairman
Paul is a seasoned executive and entrepreneur. He founded CWB Maxium Financial and grew the company to over $6 billion in assets under management. Paul holds a BS in Statistics and Computer Science and an MBA from McMasters University.
_
_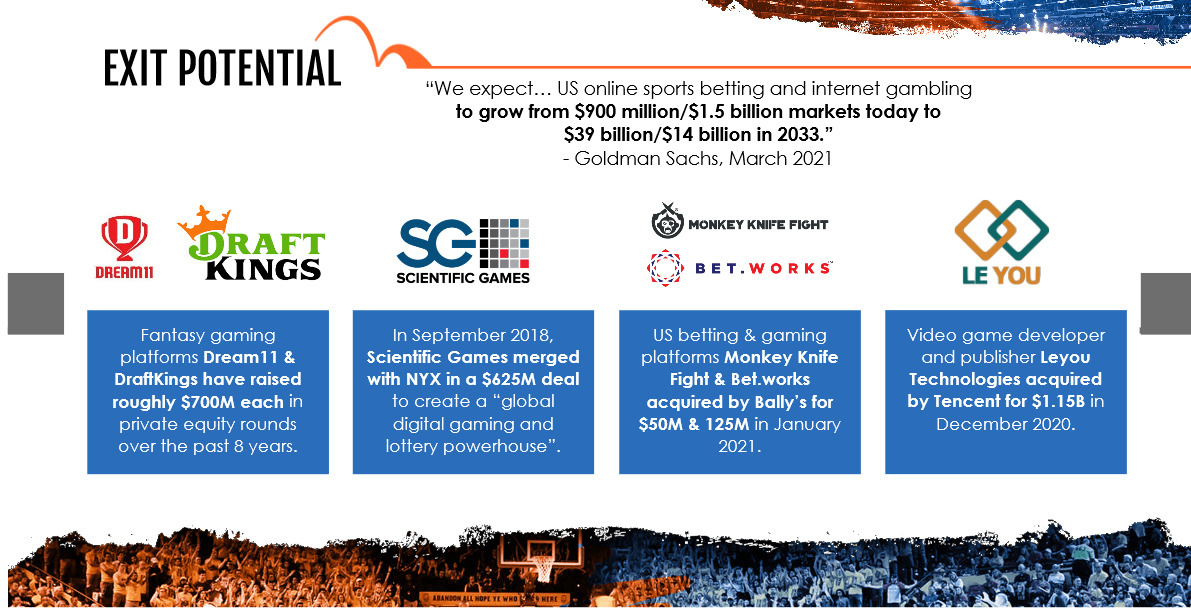 EXIT POTENTIAL
"We expect… US online sports betting and internet gambling
to grow from $900 million/$1.5 billion markets today to
$39 billion/$14 billion in 2033."
- Goldman Sachs, March 2021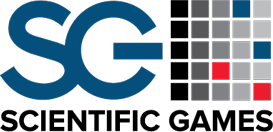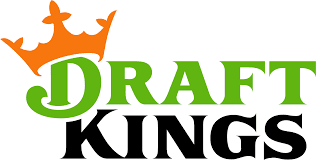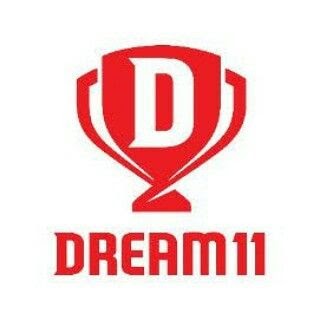 Fantasy gaming platforms Dream11 & DraftKings have raised roughly $700M each in private equity rounds over the past 8 years.
In September 2018, Scientific Games merged with NYX in a $625M deal to create a "global digital gaming and lottery powerhouse".
US betting & gaming platforms Monkey Knife Fight & Bet.works acquired by Bally's for $50M & 125M in January 2021.
Video game developer and publisher Leyou Technologies acquired by Tencent for $1.15B in December 2020.
_
_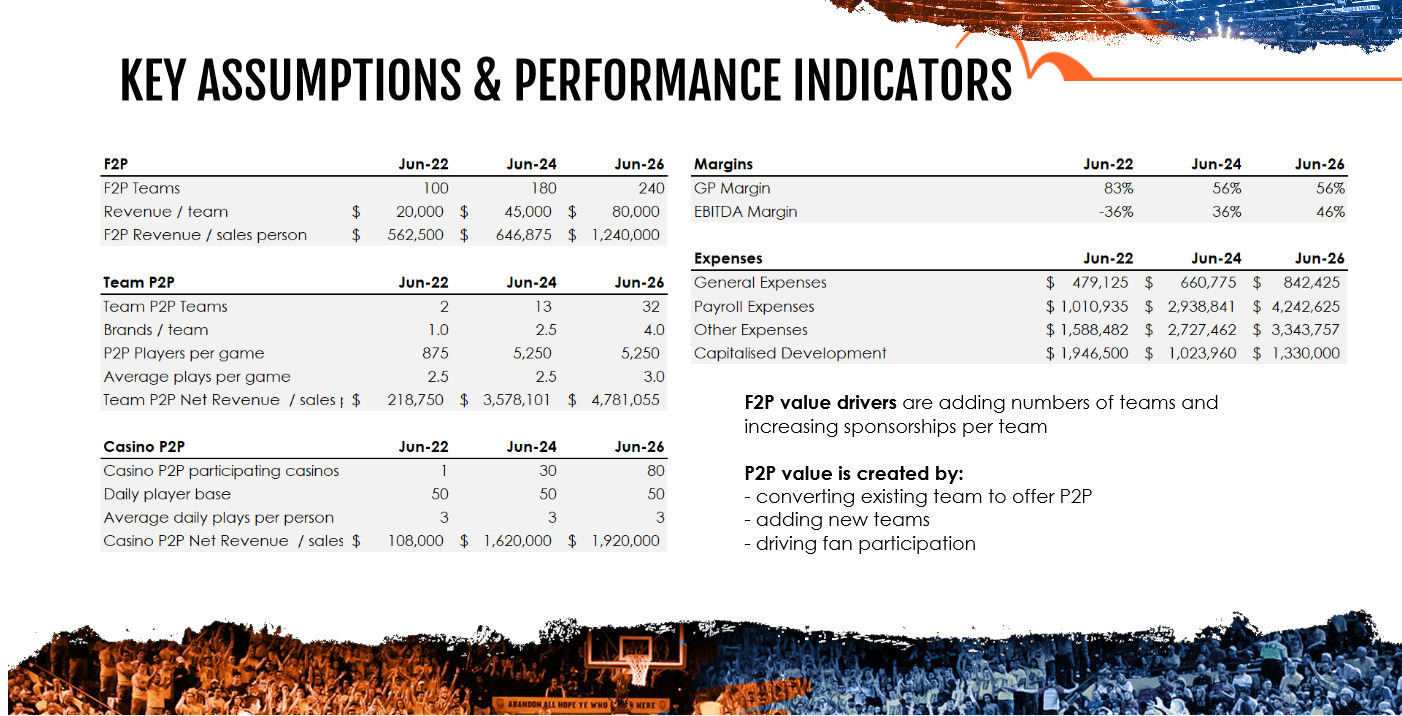 KEY ASSUMPTIONS & PERFORMANCE INDICATORS

F2P value drivers are adding numbers of teams and increasing sponsorships per team

P2P value is created by:
- converting existing team to offer P2P
- adding new teams
- driving fan participation

_
_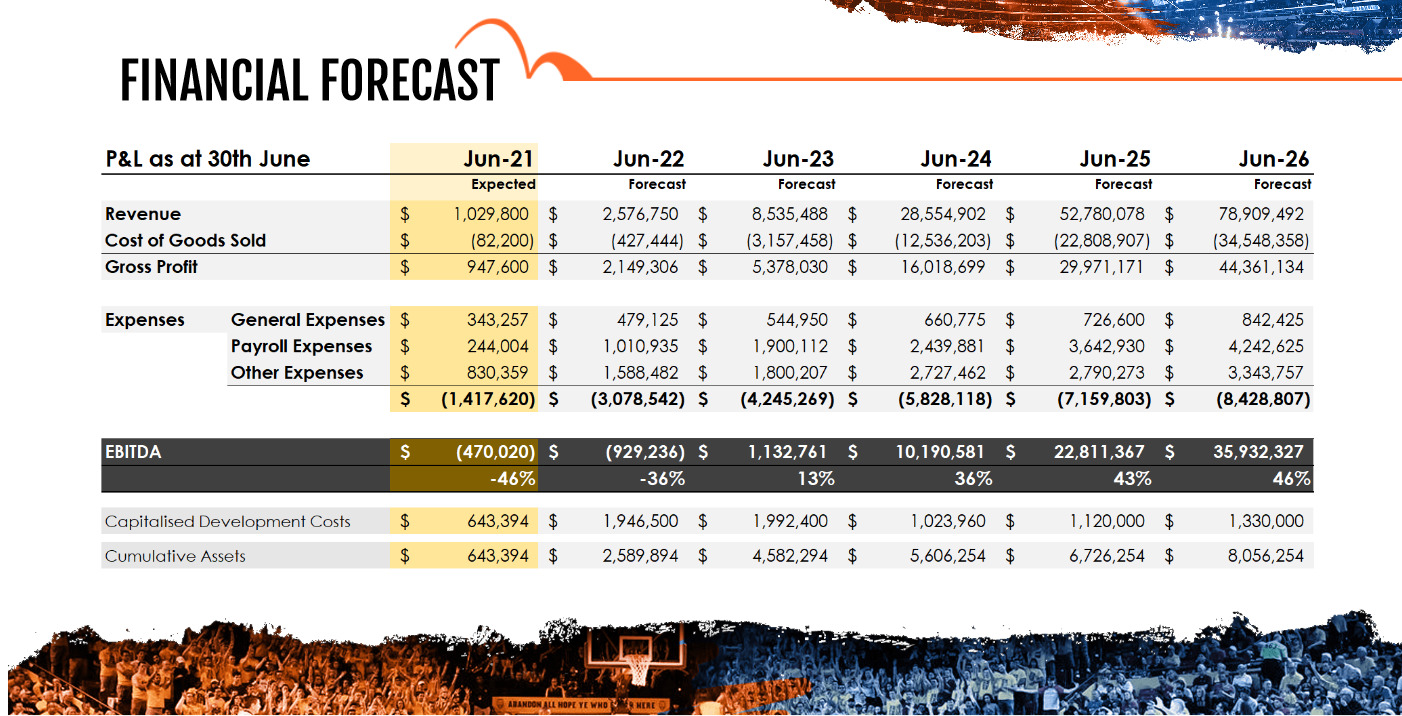 FINANCIAL FORECAST

_
_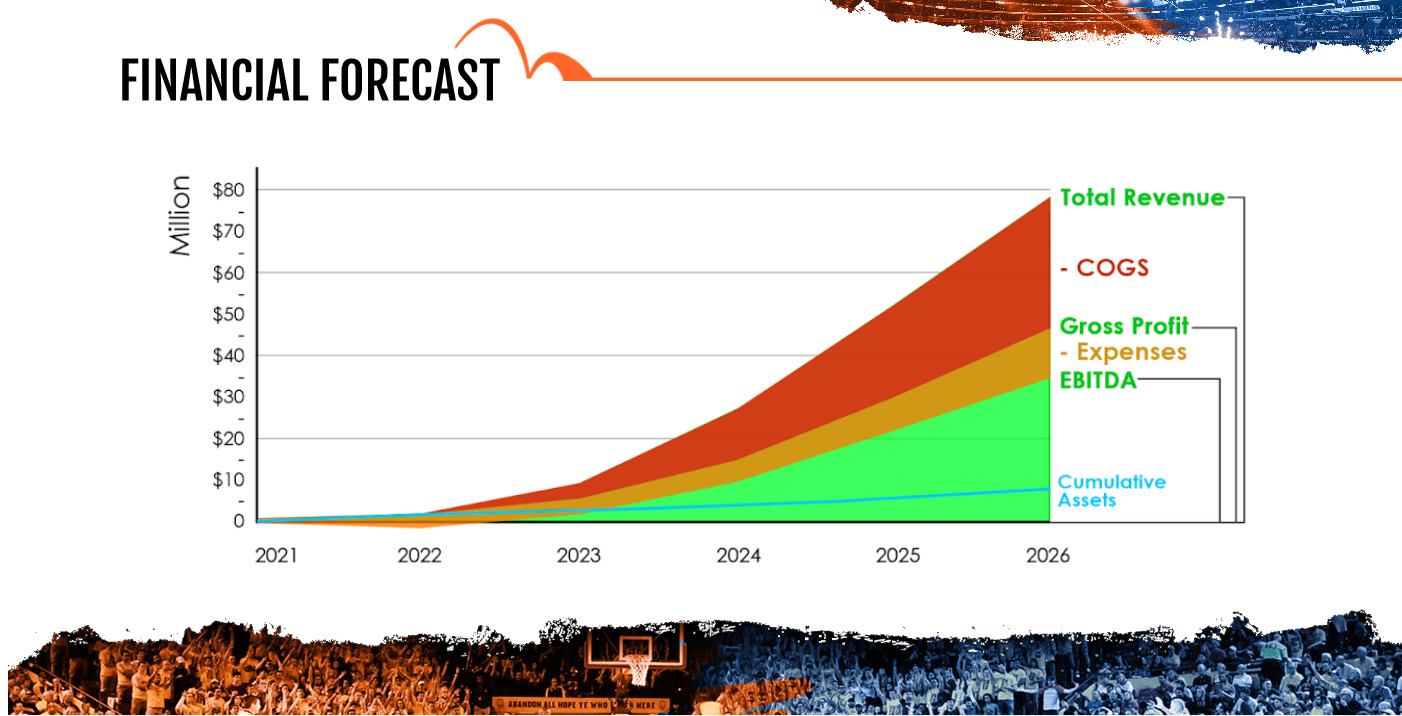 FINANCIAL FORECAST

_
_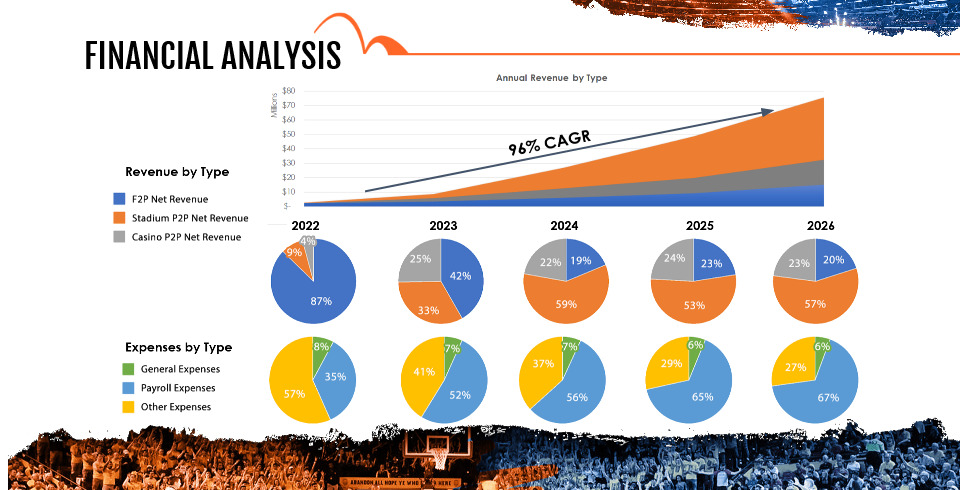 FINANCIAL ANALYSIS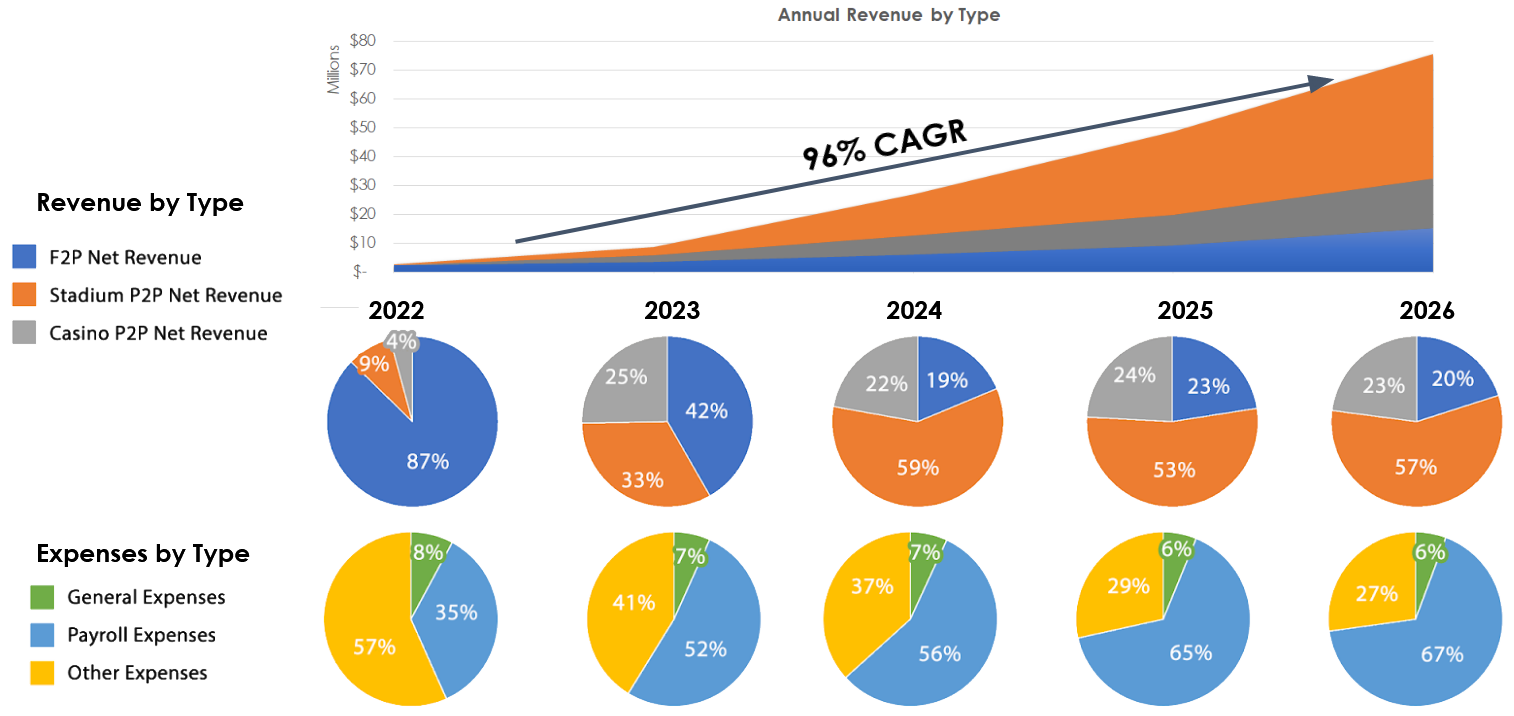 _
_


FINANCIAL ANALYSIS

_
_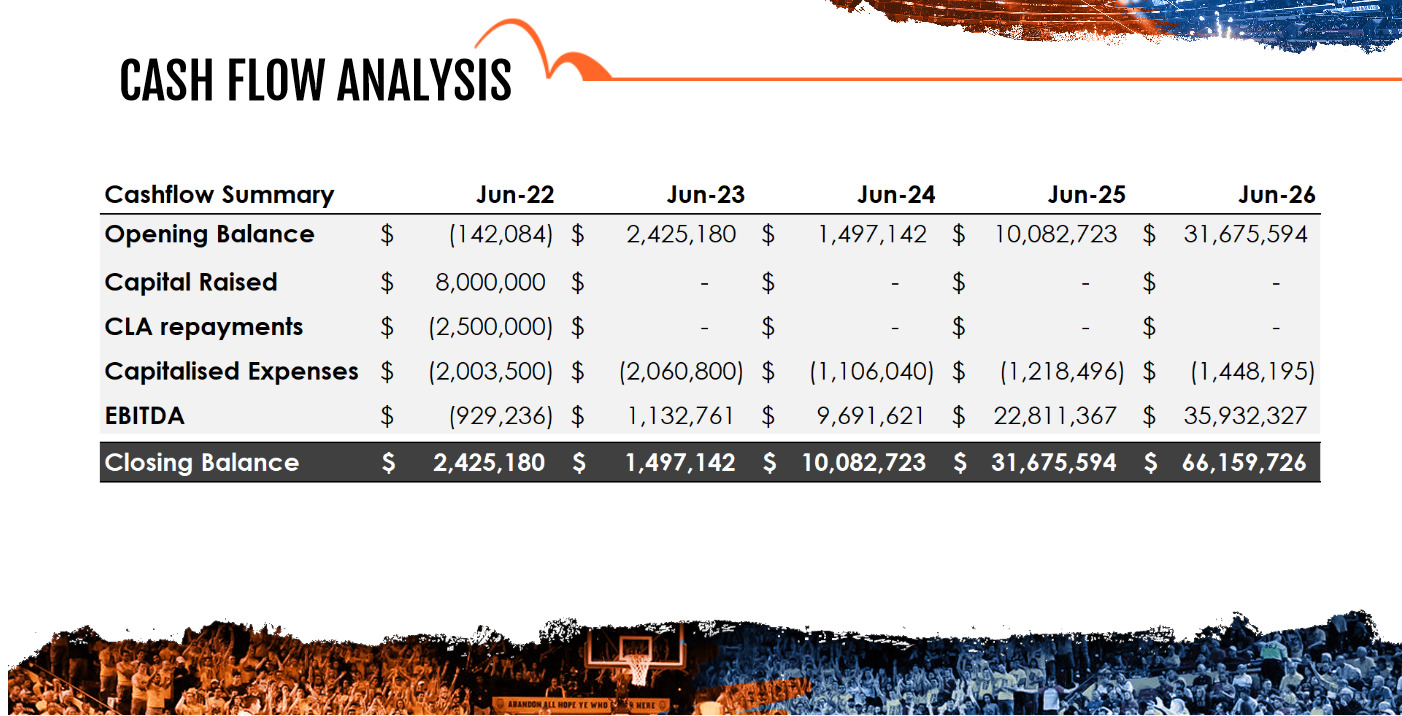 CASH FLOW ANALYSIS

_
_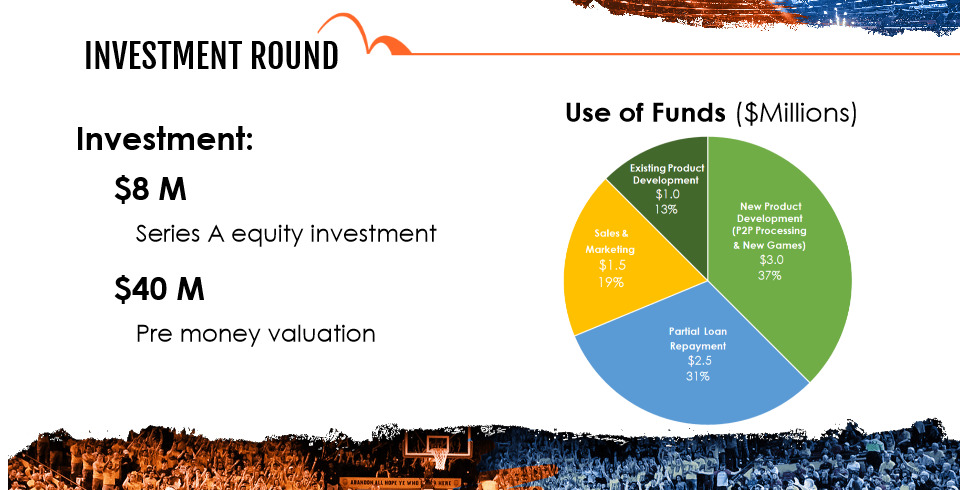 INVESTMENT ROUND
Investment:
Use of Funds ($Millions)
$8 M
$40 M
Series A equity investment
Pre money valuation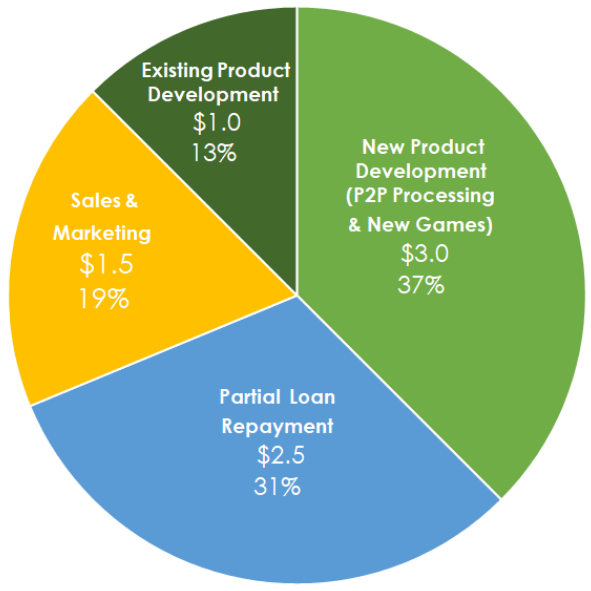 _
_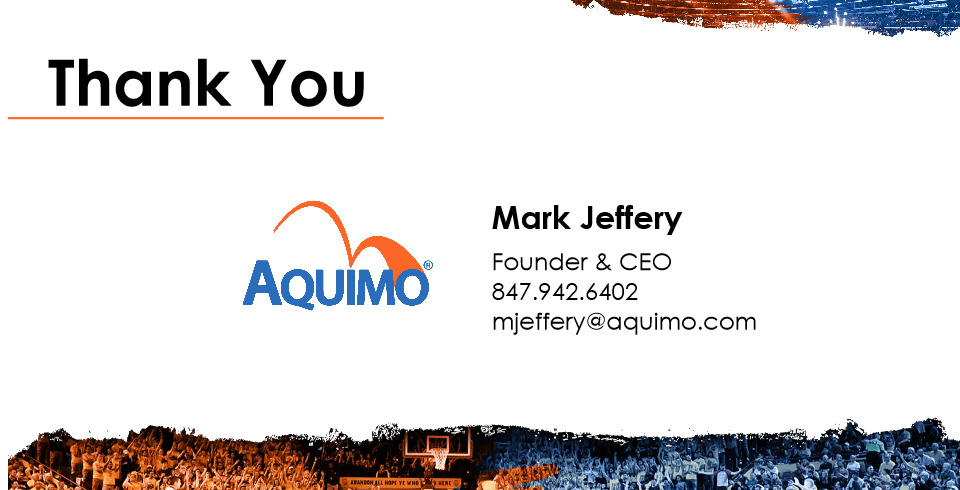 Thank You
Mark Jeffery
Founder & CEO
847.942.6402
mjeffery@aquimo.com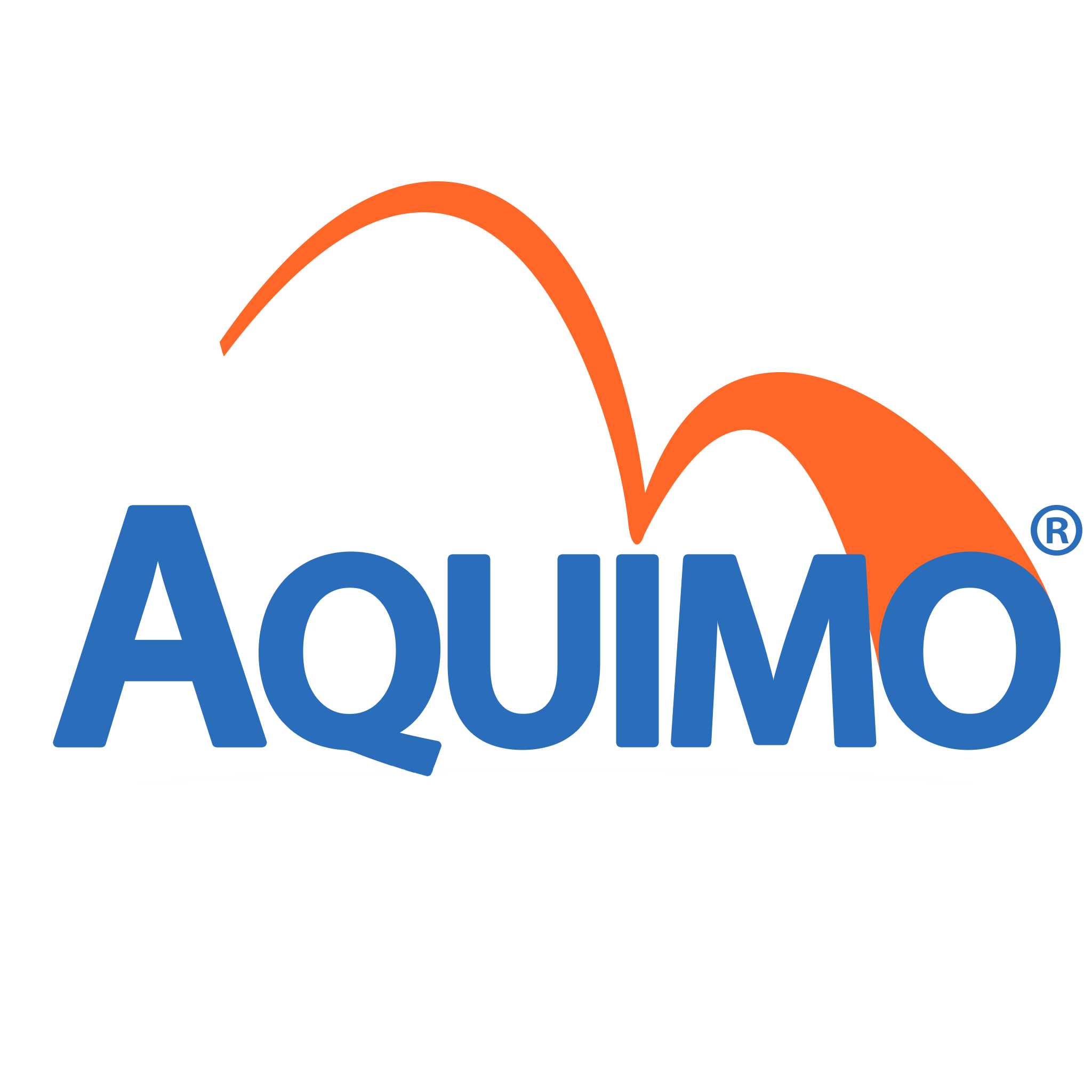 _
_